New Zealand v England: Stuart Broad predicts tough task
Last updated on .From the section Cricket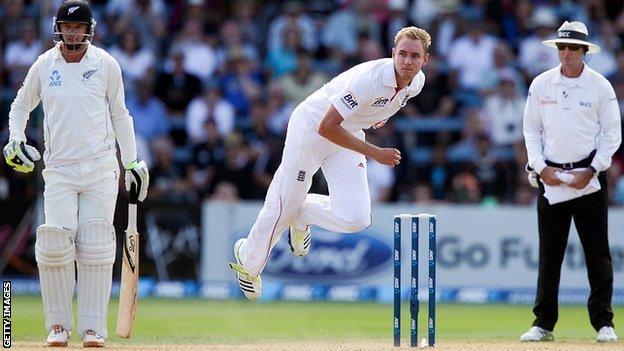 Stuart Broad says England have their work cut out to force victory over New Zealand in the second Test on a pitch that remains good for batting.
Broad's six-wicket haul in the hosts' 254 all out allowed England to enforce the follow-on, but New Zealand rallied to close day three on 77-1, 134 behind.
Broad said: "It's a good batting track. Our batsmen came off and said we'd have to bowl very well to get 20 wickets.
"We know it's going to be hard work but we are prepared for that."
He added: "That is why you work hard off the field and in the gym to be able to bowl and field for a few days on the bounce, and we will have to do that to win this Test match."
England's decision to ask New Zealand to bat again - they had not done so on tour since 1999 - was prompted by a forecast of occasional rain in the final two days' play.
"Follow-ons aren't often enforced because bowlers like to have a rest and it's good to get the opposition back out in the field," said Broad.
"But the management have been talking to groundsmen and looking at radars, and the forecast isn't that good for the next couple of days.
"We don't know how much time is going to be lost in this Test match so the only real option for us was to try to enforce that follow-on."
Broad followed up his two wickets on Friday night with the early scalp of Kane Williamson for 42 and returned with the second new ball to remove BJ Watling, Neil Wagner and Trent Boult.
His figures of 6-51 reaffirmed his credentials as a top-class Test bowler after a difficult winter in which he was dropped after two wicketless Tests in India and struggled with a heel injury.
Broad, however, was keen to pay tribute to the efforts of his team-mates.
"Some guys have worked very hard with this blustery wind and a lot of credit has to go to the likes of Jimmy Anderson and Monty Panesar, who did some hard yards into that wind," he said.
"It was pleasing for me to get six wickets but, more importantly, the team got 10.
"Those wickets with the second new ball were really important because being able to enforce the follow-on gives us a chance of winning this game."
Broad believes patience will be crucial when New Zealand resume on the fourth day, with Peter Fulton unbeaten on 41.
"It's important not to chase it," Broad said. "There's a little but of turn for Monty out there but once the ball gets older there's not a lot for the seamers.
"We just need to do a holding role, build pressure, and we know in cricket scoreboard pressure plays a big role in getting wickets."