Shane Watson intends to return to Australia's tour of India
Last updated on .From the section Cricket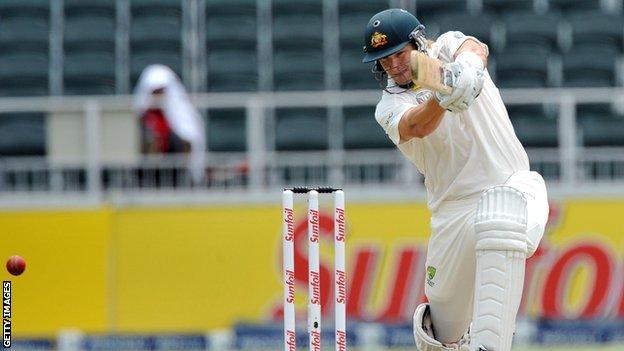 Australian vice-captain Shane Watson plans to return to the tour of India despite being dropped for one match.
He was left out for failing to deliver feedback on how the team could improve, as requested by coach Mickey Arthur.
"I've had constructive discussions with team management back in Mohali over the past few days," Watson said.
"We've spoken about how we are going to work together to move forward, as Australia attempts to climb back to the top of the ICC rankings.
"I've a burning ambition to be an Australian Test player for as long as I can be and help Australia win those big Test series as well as the big ICC tournaments.
"I'm looking forward to getting around the boys again and concentrating on moving forward.
"I'm entirely committed to the team and being the best player I can be," he said.
Watson is spending time with his wife, who gave birth last week, but intends to fly out to India in time to play in the fourth and final Test on 22 March in Delhi.
He left India saying he was considering giving up international cricket following his fall out with Arthur.
The row developed when Watson, James Pattinson, Mitchell Johnson and Usman Khawaja where left out of Australian's plans for the third Test for failing to complete an assignment set for them by Arthur.
Having seen his side well beaten by eight wickets in Chennai in the opening Test and then lose their next match by an innings and 135 runs, Arthur had asked his players to come up with three pointers on how to change things around.
Australia are currently struggling to avoid defeat in the third Test in Mohali.
Arthur has welcomed Watson's decision to rejoin the squad.
He said: "Shane's recommitment to the team in his chats with me this week have been really positive.
"We're looking forward to having Watto back and around the group as we prepare for the fourth Test."