Hampshire: Giles White hints at new T20 faces
Last updated on .From the section Cricket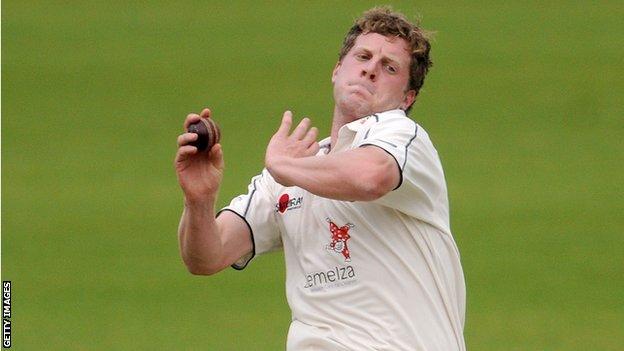 Hampshire cricket manager Giles White has hinted that more players may get a chance in the side's Twenty20 team this summer.
James Tomlinson and David Balcombe took 100 wickets between them in the County Championships last year but both failed to play a single T20 match.
But White suggested things could be different this year for the holders as they look to shuffle their squad.
"Everyone's in our thoughts for T20," White told BBC Radio Solent.
"We don't ever want to pigeon-hole players but we also have to manage a small group through a fairly hectic schedule in the summer.
"We try and do that the best we can and we will review that all the way through the season to make sure we get that right."
Hampshire won a T20 warm-up against Northamptonshire on Sunday evening as part of their current pre-season tour in Barbados, with Tomlinson and Balcombe each bowling four overs and taking five wickets between them.
"Tommo never lets you down," White said.
"It shows he can do a job in one-day cricket as well which is good.
"He and Balcs [Balcombe] have essentially been four-day cricketers last year and we looked after them to get them through the season.
"They've given us a reminder that they're ready to go in one-day cricket."
Hampshire start their County Championship Division Two season by hosting Leicestershire on 10 April and will also defend their CB40 title as well as their FL t20 crown.
And White, who revealed new signing Adam Wheater has picked up a side strain, said he was happy with the team's preparations so far.
"We've got a bit of work to do as a group but we have plenty of time to do that and I'm very comfortable with where the team is at the moment," White said.
"Adam's got a side strain, which is disappointing, and we need to get that scanned and work out how serious it is.
"We'll look at his rehab from there but I'd have thought he'll be in contention for the start of the season."