Australia captain Michael Clarke out for up to 10 weeks
Last updated on .From the section Cricket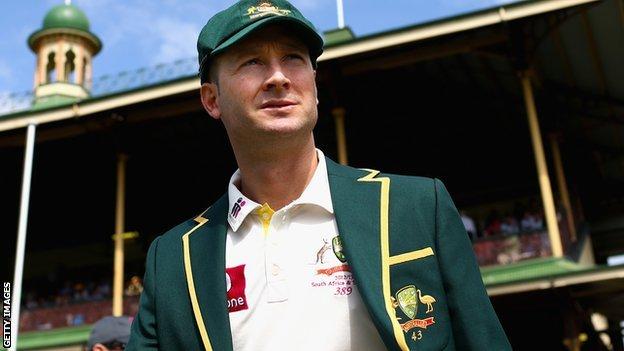 Australia are confident captain Michael Clarke will be ready for the Ashes after confirming he will be out injured for the next seven to 10 weeks.
The 31-year-old recently suffered a recurrence of a back problem and also has a hamstring injury.
Clarke will miss the Indian Premier League and is doubtful for the Champions Trophy in England.
"We are confident that it will not affect his Ashes preparation," said a statement from Cricket Australia.
A 10-week absence would see Clarke returning at the start of June, with the first Test against England scheduled to begin on 10 July.
"As always, we need to manage this carefully as there are potentially serious consequences with further aggravation," continued the statement.
"He still has pain with basic activities and is not back to full function as yet.
"He also has a hamstring injury that has been a concern for most of the summer and will complicate his return."
Australia coach Mickey Arthur said he is hopeful the batsman would be back in time for the Champions Trophy, which runs from 6-23 June.
"We don't want Michael to be at risk at all for the Ashes or the Champions Trophy,'' said the coach.
Clarke was also set to play for Pune Warriors in the IPL Twenty20 tournament in May.
The middle-order batsman, who was replaced as captain by Shane Watson for the fourth Test in India, has been in brilliant form over the last 12 months, averaging 106.33 for calendar year 2012.
His absence in Australia's final game against India meant he missed a Test for the first time after a run of 92 matches.