Northants chief concerned cold weather will harm season
Last updated on .From the section Cricket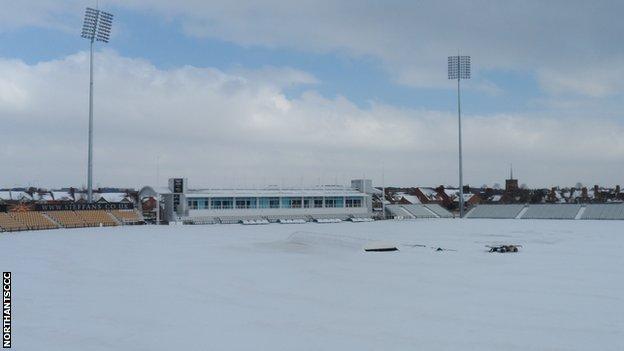 Northants chief executive David Smith says he is concerned the continued cold weather will ruin the start to the County Championship on 10 April.
Wantage Road is currently covered in snow ahead of the 2013 season.
Smith told BBC Northampton: "The temperature at this time of year is a major concern and I believe it's the wettest March on record.
"There are nine matches before the end of May and the competitiveness of the competition could be destroyed."
The county cricket schedule was heavily affected by poor weather last year, as nine of Northants' 16 County Championship matches were drawn, five of 12 matches in the Yorkshire Bank 40 ended as a 'no result' and two of their 10 matches in the FL t20 also fell victim to the rain.
Although Northants start their County Championship campaign with a trip to Glamorgan, they host Essex from 17 April.
"It's going to be a bit of a blessing that we're playing away from home for a lot of that period," Smith continued.
"But we've started the season in the first week of April in the last two seasons. We used to start later in April when I was playing and that was cold enough.
"We need a week's dry weather and we need some double figure temperatures, which we should get at this time of the year.
"We appear to be about three or four weeks behind where we should be in terms of temperatures."
Northants' players have just returned from a pre-season trip to Barbados which they part funded themselves - and Smith is happy that they went.
"They've had ten or eleven good days out there, with the sun on their back and have been involved in some competitive cricket which they wouldn't have got here," he added.
"We have some friendlies lined up but I'll be very surprised if we play next week."