New Zealand v England: Tourists pull off 'great escape' in Auckland

By Jonathan Agnew
BBC cricket correspondent
Last updated on .From the section Cricket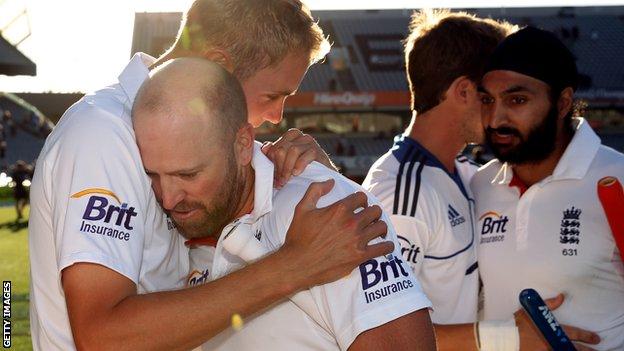 England's dramatic fightback against New Zealand in Auckland ranks among their greatest Test escapes.
Batting out the final day at Eden Park to secure a draw ranks alongside Michael Atherton's wonderful unbeaten 185 in South Africa in 1995 and Colin Cowdrey playing with a broken arm to fend off Wes Hall and West Indies in 1963.
Only Test cricket can provide these wonderful finishes, which is why it is the purest form of the sport and why it needs to be preserved and cherished.
We had everything on the final day: England's last-wicket pair together; a comical near run-out with number 11 Monty Panesar diving to make his ground; an impassioned crowd urging New Zealand towards a rare series win; and the game not decided until the final ball.
For all England's fighting qualities, their narrow escape against a New Zealand side ranked eighth in the world should serve as a warning that Test cricket must always be respected.
Questions will be asked of England after this tour. They were focused on beating India before Christmas and are looking ahead to back-to-back Ashes series against Australia; they probably took their eye off New Zealand in between.
New Zealand almost made them pay but England saved face by the narrowest of margins. Good teams do not lose many matches and they have not lost any matches.
The character they showed was illustrated perfectly by Ian Bell, who batted for almost six hours for his 75. He was selfless and reined in all of his natural game to bat for the team.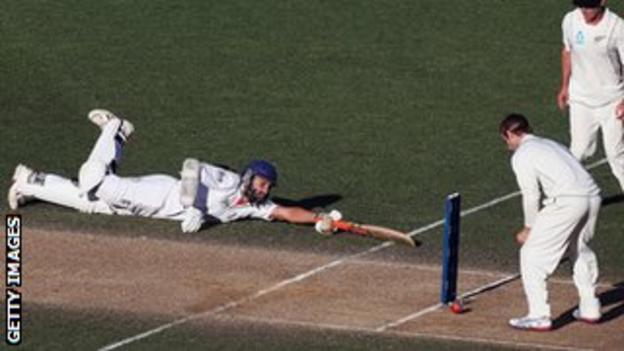 Too often over the years, I have heard excuses from batsmen saying 'that is the way I play' or 'I should play my natural game'. On the contrary, it is about adapting to situations and Bell showed exactly how to do that.
Although he struck 20 fours in his match-saving unbeaten 110, Matt Prior also managed to rein himself in by his standards.
His display in this Test confirmed he is the best wicketkeeper-batsman in the world. He scored a century and a fifty and took five catches, which is rarely achieved in Test cricket. England are very lucky to have him.
Prior is a selfless individual and I think being appointed vice-captain has done him a lot of good.
He is very vocal behind the stumps and was the person who delivered the team talk on the third day when England reduced New Zealand to 8-3 after the tourists had been bowled out cheaply in the first innings. You could see him talking very authoritatively in the huddle about what they had to do.
Like England as a team, I hope Alastair Cook learns from this series.
He is still a very inexperienced captain who has not had the benefit of leading a county side. He is learning all the time - both tactically and in terms of how to deal with people - but he needs to be a little more attacking and show more authority in the field at times.
There are also lessons to be learned by the England management.
Team director Andy Flower must admit the preparation was not good enough; England cannot afford to have the situation where they have a solitary first-class game before a Test series.
The itinerary - three back-to-back Tests - was also unacceptable because people cannot perform at their best on tired legs. That has to be put right.