Andy Flower says England must improve for two Ashes series
Last updated on .From the section Cricket80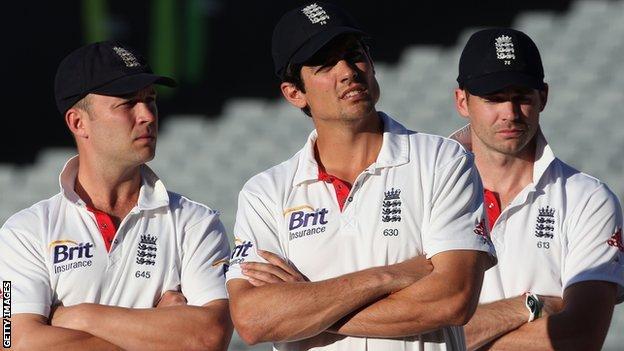 Coach Andy Flower says England need to improve to beat Australia in back-to-back Ashes series this year.
"We've got a big year of international cricket and we will need to be sharper, better and more skilful," said Flower.
"But it has been a wonderful winter and to win in India was a really special moment. The only series we have lost was the one-day series in India."
Each of the three Tests against New Zealand was drawn, but England won two and drew one of the four Tests in India at the end of 2012, the first time they had won a series there since 1985.
They face a busy year with two home Tests against New Zealand followed by the one-day Champions Trophy tournament and a five-Test series against Australia, before travelling down under in the winter.
England, ranked the second best Test side in the world, faced suggestions they were complacent for their matches against New Zealand, although Flower insisted they had not taken their opponents lightly.
"We place importance on all international series and it would be disrespectful to do anything other than that - there was no complacency in our camp," he told BBC Radio 5 live.
"We understood it would be a tough challenge to come here and win. Just because you are ranked above another team it doesn't give you the right to win any series.
"It was a good escape in the end. But we got ourselves into trouble, we didn't play particularly great cricket and did well to get a draw.
"Ian Bell and Matt Prior were excellent; they fought hard and that's a quality of the team, but we have to be better to get into winning positions, not scratching our way to a draw.
"We didn't move the ball sideways and if you don't move the ball against international batsmen you are not going to create chances. That was worrying for me. They swung the ball and we didn't do that too much."
With New Zealand on top in Auckland, England pushed nine fielders near to the boundary, but Flower defended the negative move.
"I've seen it on a number of occasions in Test cricket by various sides and it was a perfectly legitimate tactic," said Flower.
"We had no chance of winning the game and had to slow them down. They were fighting for every minute and every run.
"You can deploy your field to take wickets but in this instance the most important thing was to restrict the opponent."