Ashes 2013: Graeme Swann targets Ashes summer series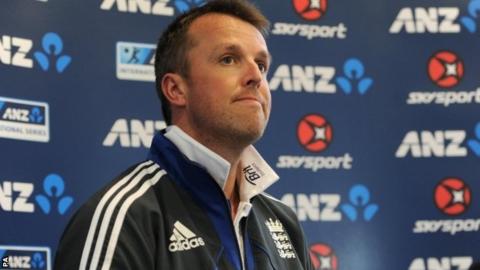 Graeme Swann says he is hoping to be back bowling by April and match-fit in time for the summer's Ashes series.
The 34-year-old off-spinner with an elbow problem, but could be fit to face the Kiwis in May.
"By the end of April I hope to be bowling," said Swann.
"In an ideal world I'd be fit and proving to the coach and captain that I'm bowling well to make the first Test of the summer."
The Nottinghamshire player added: "That's my aim. Whether it's pie in the sky or too optimistic, that's the goal."
England play New Zealand in two Test matches beginning on 16 May before the five Ashes Tests begin at Trent Bridge on 10 July.
Swann, who was a key member of the victorious 2009 and 2010-11 Ashes-winning England squads, said that, elbow-permitting, he still held a desire to play cricket at the highest level.
"I'm not too worried. The hunger is still strong," he said.
"I love Test cricket and I'll play as long as my body can stand it, whether that's 12 Tests or 112.
"But I've not been worried about anything long term because I know I'll be fine.
"The last time the operation I had was far more serious and the recovery was great - he was able to sort me out and get me fit for four years of unbelievable Test cricket.
"I was bowling for three-and-a-half years relatively pain-free and that was one of the signs in New Zealand; all of a sudden I got a sore back, shoulder, abdominals.
"It was all down to the fact the elbow wasn't working properly. Now it's all clear and it should be right as rain."