Wisden Cricketers' Almanack: 150 years of 'cricket's bible'

By Sam Sheringham
BBC Sport
Last updated on .From the section Cricket64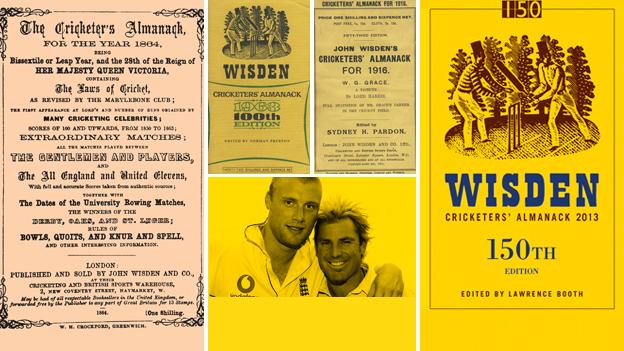 In 1979, Bill Furmedge was a 15-year-old state schoolboy from a Liverpool suburb who had never played cricket or shown any interest in the game.
On a trip to his local library, his eye was caught by a weighty tome with a bright yellow cover. The book in question was that year's Wisden Cricketers' Almanack and the chance encounter was to prove the start of a love affair that endures to this day.
"I began reading and became engrossed as most Wisden people do by the facts and figures," recalls Furmedge.
"I became fascinated by the 1979 edition and ended up going back to the library three or four times. Each individual Wisden is a period drama. It is like stepping into a Tardis and being transported back in time."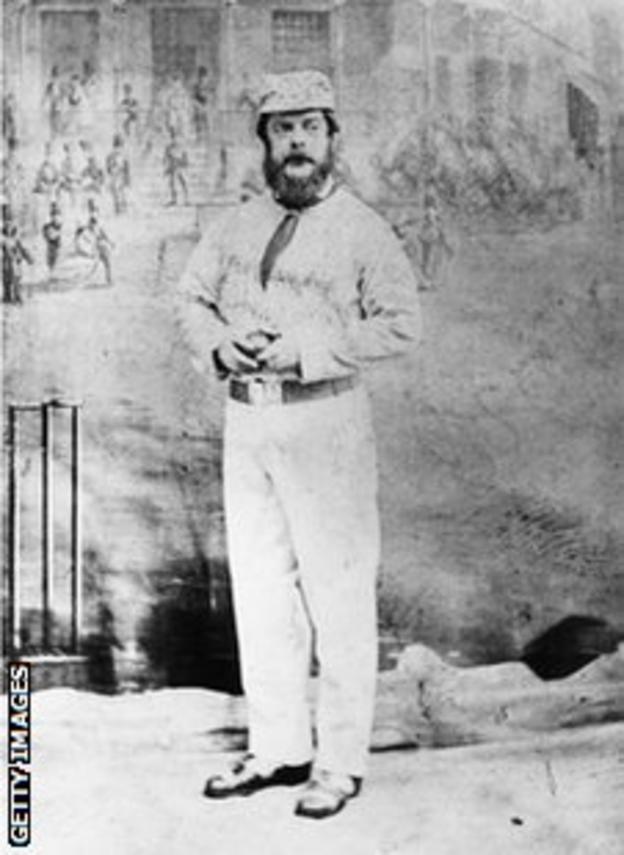 Six weeks later, Furmedge bought his first copy of the so-called 'cricket bible' and began to build a collection. In 2004, his shelves were so cluttered by old editions of the book that a friend suggested he should go into business, buying and selling Wisdens.
"Within three months, I'd launched a mini-website. Within six months I was selling on Ebay," adds Furmedge. "It snowballed to the point where in 2008 I was able to leave London, where I was earning good money in a wonderful career as a publisher, and set up full-time.
"I've been told I'm the largest Wisden-only dealer in the UK and probably the world."
According to Furmedge, who sells between 150 and 200 Wisdens every month, rare early editions can sell for as much as £35,000, while a complete set of originals needs to be insured for about £350,000.
That a man can make a good living dealing in dusty old copies of a cricketing annual underlines the deep affection for a publication which bills itself as the world's most famous sports book and will publish its 150th edition next week.
Released each year in April, Wisden traditionally includes scorecards and synopses of every first-class game played in England the previous summer as well as summaries of international, minor counties, second XI, university, school and club cricket.
A typical copy would also include several pages of articles and features about topical issues in cricket, profiles of the five Wisden Cricketers of the Year, obituaries, records, rules and an Index of Unusual Occurrences bearing headlines such as "Rabbit burns down pavilion", "Hot-air balloons stop play" or "Cricketers arrested for dancing naked".
Lawrence Booth, who became Wisden's youngest editor for 72 years at the age of 35 in 2011, describes the book as the "conscience of cricket".
"As annuals should do it steps back and takes a more distant perspective than daily reporters are able to do. It tries to keep the game in check," he says.
"The readership is highly educated in cricket terms and they are looking for something warm, informative and affectionate.
"But it's a social history as well. If you leaf through the pages of Wisden over the years you get a sense of the country and its politics."
Leafing through the first ever Wisden - from 1864 - leaves little more than a sense of bemusement.
The book was the brainchild of John Wisden, a star cricketer from the mid-1800s, who was trying to secure an income in his retirement.
Priced at one shilling, the 112-page volume provided details of the Gentlemen v Players fixtures of the preceding season as well as a diverse mix of facts, including the lengths of Britain's canals, the dates of the Wars of the Roses and the rules of an obscure pub game called Knur and Spell.
"It was an extraordinary pot pourri of stuff," says former Wisden managing director Chris Lane. "Nobody knows why. The next year it immediately became all about cricket and gradually started to evolve into what we know today."
Various landmarks have punctuated that evolution. The 1889 edition was the first to name its Cricketers of the Year, which has become one of the sport's most prestigious annual awards. It recognises the top performers of the previous English season and cannot be won by the same player twice.
In 1901, the Notes by the Editor section was introduced, allowing then editor Sydney Pardon to rail against "throwing and dubious bowling" as well as "the treatment of the Press representatives at Lord's on the occasion of the Oxford and Cambridge, and Eton and Harrow matches."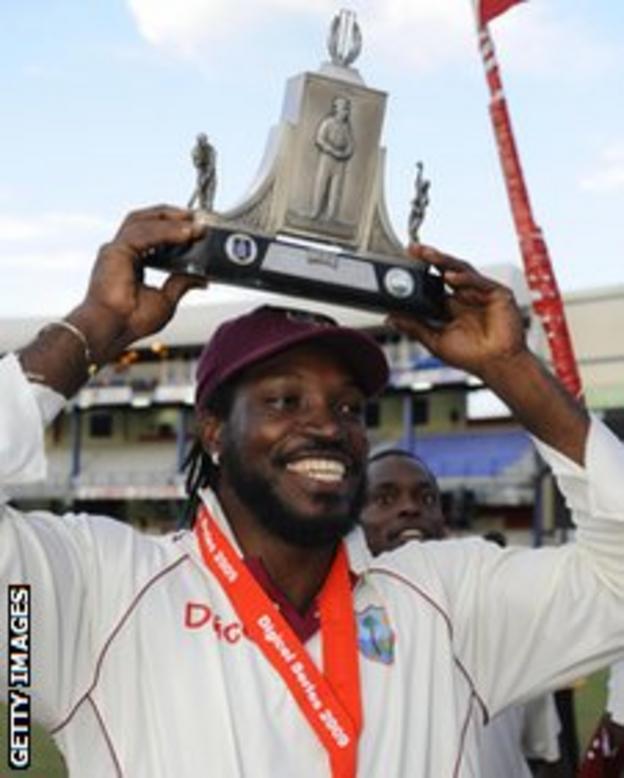 The 1916 edition carried a more sombre tone, reflecting the mood of wartime Britain and the death of two of the game's greats, WG Grace and Victor Trumper, whose obituaries are contained in its pages.
The iconic yellow cover made its debut on the 1938 book, which was also the first to feature the woodcut image of two Victorian gentlemen playing cricket by artist Eric Ravilious, which has become the book's emblem and sits proudly on the commemorative cover of the 150th edition.
In 1963, the 100th Wisden was marked by the introduction of the Wisden Trophy to be contested between England and West Indies and in 2000, Wisden initiated the ultimate cricketing debate by naming Sir Don Bradman, Sir Jack Hobbs, Sir Garfield Sobers, Sir Viv Richards and Shane Warne as its five Cricketers of the Century.
Today, Wisden sells around 40,000 copies at a cover price of £50. It regularly exceeds 1,500 pages, with the 5,000-word Notes by the Editor now a highly-respected reflection on the state of the game.
"I think it's fair to say that it's the one piece of cricket writing I do that I know will get picked up," says Daily Mail cricket writer Booth, who used his first essay last year to implore Indian cricket administrators to put aside their own self-interest by helping protect Test cricket against the indomitable rise of Twenty20.
"No administrator wants to be flayed in the editors' notes. I know from experience that people will read it, take offence occasionally and object to things. They know what is written there will stand the test of time. It's not fish and chip paper. As editor you have a huge responsibility to get things right."
Booth also tells a tale that reflects Wisden's standing among players. When veteran Worcestershire seamer Alan Richardson was named one of the Cricketers of the Year in 2012 he turned up at the awards dinner - a black-tie affair held annually in the iconic Long Room at Lord's - "looking starstruck" and even sent Booth a 'thank you' card the following week.
Exactly 150 guests have been invited to this year's dinner, forming part of a series of events to celebrate the book's landmark birthday.
The centrepiece will be a cricket match between an Authors' XI and a Wisden XI, who will wear full Victorian cricketing regalia. The game will be played in London's Vincent Square, where John Wisden produced one of his finest displays.
It is an appropriately nostalgic celebration for an institution proud of its ongoing role in chronicling the history of the game and checking its pulse.
Looking to the future, however, does Booth see a danger of Wisden's importance starting to diminish in an era of social media and instant news?
"In an age of tweeting and blogging, which are both important nowadays, we try to make a virtue of the fact that we can step back and take a considered view," says Booth.
"The fact that people still buy Wisden suggests there is still an affection for that approach. Until people stop buying it we will carry on doing it."