Stephen Peters: Northants squad determined to succeed
Last updated on .From the section Cricket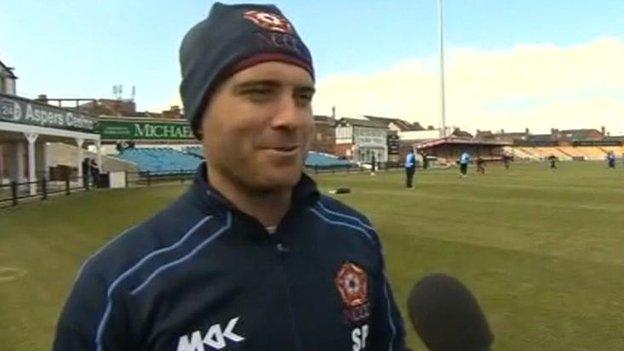 New Northants captain Stephen Peters is confident the club will bounce back strongly from a disappointing 2012.
The club are looking for a big improvement this summer after winning a total of only four games in the three county competitions last year.
"There's no hiding behind last season - it wasn't good enough," 34-year-old Peters told BBC Look East.
"We've put in a lot of hard work over the winter and I believe we'll be much tougher to beat this year."
The squad recently returned from a two-week training camp in Barbados.
With money tight at the club, the players contributed money to enable the trip to take place.
"We didn't put the whole lot in but put in a good amount," Peters continued.
"It was important to get away. I know the supporters' association put money in too and I hope the players' contribution shows our commitment."
It has been a winter of upheaval at the County Ground after the side finished eighth in County Championship Division Two and bottom of their group in both the Friends Life t20 and CB40 last season, with Peters taking over from Andrew Hall as club captain and a number of changes to the squad.
"The weather's been brutal here, so we were very lucky to get to Barbados for two weeks training outdoors in 30 degrees," Peters added.
"It's been a shock getting back as even though it's dry, it's bitterly cold, but it's a case of getting on with it and showing the determination to get your work done.
"I felt we lost that grit and determination last season, so it's vital we get it back."
Alex Wakely will be Peters' new vice-captain in the Championship and will lead the side in the one-day formats.
The 24-year-old has been with Northants for his entire career since making his first-class debut in 2007.
"I'm a Northamptonshire lad and it was embarrassing what happened last year," Wakely told BBC Radio Northampton.
"The squad sat down at the end of last year and had a very honest meeting.
"We were all fed up and at rock bottom but a lot of honest truths came out of it - there's a fresh drive and determination to take anyone on this year."
*Listen to commentary on every county match this summer via the BBC Sport website.