Daniel Bell-Drummond: Kent's Sam Northeast urges caution
Last updated on .From the section Cricket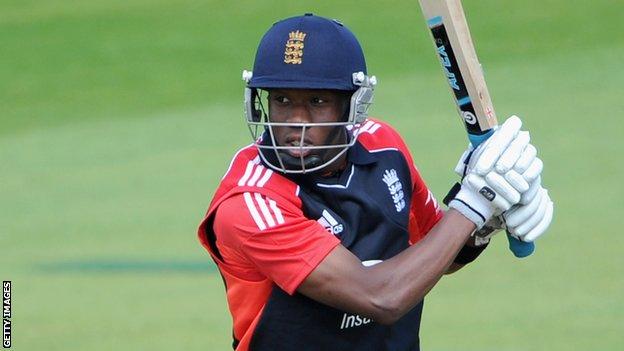 Kent's Sam Northeast says fans should not expect too much too soon from young batsman Daniel Bell-Drummond.
The academy graduate is on the verge of the first team following strong performances for the England Under-19s.
"Everyone has got to be a little bit careful with DBD at the moment.
"I was probably in his situation three years ago of being hyped up. It is a big leap and we need to keep our feet on the ground a bit with him," Northeast told BBC Radio Kent.
"It will be tough for him coming in at number three or opening up."
Bell-Drummond, 19, has made six first-class appearances for Kent since his debut in May 2011, but he struggled for form at the U19 World Cup in Australia last August.
Although former England captain Alec Stewart has identified the London-born youngster as a player to look out for in 2013, Northeast - who trod the same path from the Kent academy to the first team via the England U19s - has urged caution as Bell-Drummond aims to bridge the gap to the senior side.
"It is one of those things - people like to look at the next thing coming through and get excited, which I can understand," the 23-year-old said.
"Like anything, it does take time. I hope he goes really well this year but I wouldn't expect huge things. If he does, it's great for us.
"A lot of people throw advice at you when you are quite young. You can't necessarily listen to everybody and he will learn that.
"Jimmy [Adams, Kent head coach] is pretty good like that. He'll throw you snippets here and there.
"I'd tell Daniel to stick to what has worked for so long."
*Listen to commentary on every county match this summer via the BBC Sport website.