Sussex coach Mark Robinson eyeing title challenge
Last updated on .From the section Cricket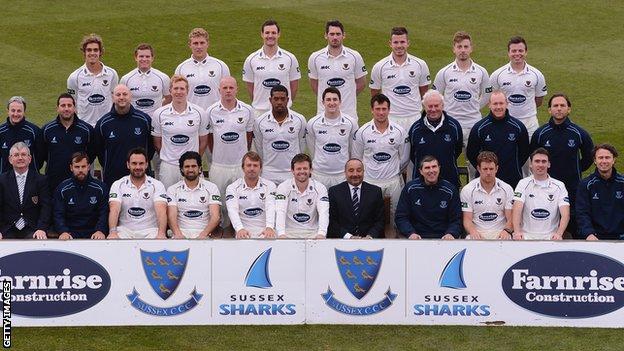 Sussex coach Mark Robinson says his side are capable of challenging for the County Championship title this season.
The Hove outfit finished fourth in Division One last year.
Robinson told BBC Sussex: "To get in a position where we had a sniff of winning was a great effort. We surprised ourselves and a few others.
"That gives us real belief that if we stay very humble and work really hard, which will be the key thing, we can continue to surprise a few people."
He added: "We obviously have to do certain things a bit better.
"Sometimes, how we play on flat wickets needs to change. The batting unit need to be a bit more ruthless and, from a bowling point of view, less reliant on Steve Magoffin and Monty Panesar.
"I've got real belief in the squad that we are going in the right direction.
"I don't see any reason why we can't do well. We have got a good balance and it's just a matter of performing."
Sussex's hopes may hinge on how many games left-arm spinner Panesar is available to appear in.
The 30-year-old, who was handed an incremental contract by England last month, has been made available for all cricket until the first Test against New Zealand on 16 May.
But with England spinner Graeme Swann stepping up his comeback following an elbow injury, Panesar could be heavily involved for the national side in the Ashes series against Australia this summer.
Sussex captain Ed Joyce, who is set for his first full season as skipper, says Panesar is central to their plans for the campaign.
"It will benefit us if we get Monty," Joyce told BBC Sussex.
"Himself and Steve Magoffin have been our two stand-out four-day bowlers by a county mile and they control the game.
"Steve bowled so many overs for us last year and did brilliantly.
"Jimmy Anyon has got 100 wickets over the last two years, which is a phenomenal effort, but he would be the first to say he has probably leaked a few too many runs.
"We'll be looking for the bowling unit to have a bit more control and Monty is crucial to that.
"If we lost him we will need to come up with some other plan to try and get that control. He is a quality bowler, a performer and a massive player for us.
"We will need him to be challenging for the championship."
Robinson added: "When one player steps away, it's up to others to step up and fill their shoes.
"They'll never do it in the same way and maybe it's for the rest of the team to compensate for that absence.
"We've used Monty in a certain way and you hope what you've got in the squad can cover it."
Meanwhile, Robinson has challenged his younger players to step up and seize the opportunity in front of them.
"It's 10 years since we [first] won the championship and the last bastion of that era has finished with Murray Goodwin leaving," he said.
"He has been a legend at this club and now he is finished.
"This is their time now and we have got a really hungry bunch of players ready to play and perform. We'll do it bit by bit and see where the season takes us, but there is a good feel at the moment.
"Ultimately you want to see progress and you want to see that.
"We have lost seven senior players in five years and that is a lot. That is natural progression but you want players in the group to step up.
"We believe in the team, their work ethic and their honesty.
"The challenge for any team is when things get tough. Can we deliver under pressure?"