Ben Stokes can learn from disciplinary issues - Geoff Cook
Last updated on .From the section Cricket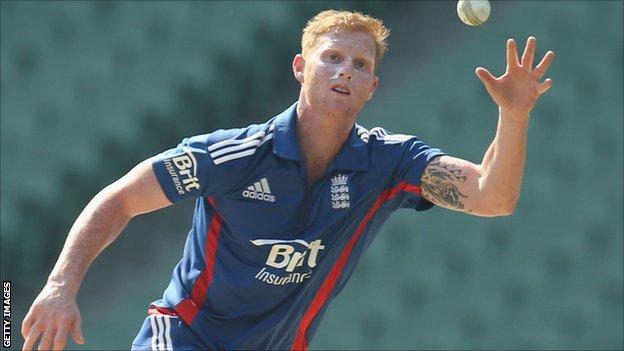 Durham coach Geoff Cook says Ben Stokes can learn from the
after the incident in February, and will instead return to first-class duty with Durham.
"It could be the best winter he's ever spent," Cook told BBC Newcastle.
"He has ability but there are things alongside which you need to put into place to play at the highest level."
Cook added: "If he can learn what he needs to achieve to play well enough consistently at that level, then it's a fantastic winter for him and that's how he has to look at it."
The all-rounder made his England one-day international debut against Ireland in the late summer of 2011, and followed that up with a Twenty20 outing against West Indies later in the year.
Meanwhile one Durham player to make it into the England squad was bowler Graham Onions, whose winter was largely spent as 12th man for the tests against India and New Zealand.
Although in the provisional camp, the 30-year-old is concentrating on leading the attack at Chester-le-Street and building on an impressive 2012 which yielded 72 wickets, with 64 coming in the County Championship.
"It's important for me to bowl well and take wickets for the side, that's my role, and if I do well then there's a chance of potentially being picked for England," he said.
"I'm excited, when I was young I looked up to Steve Harmison, Neil Killeen and Simon Brown and I wanted to be part of that.
"I wanted to be part of an attack that I thought could win things, and I see myself now leading an attack with some promising youngsters and some experienced players too."
Durham face Somerset in their County Championship opener on Wednesday, with live commentary of all four days from BBC Newcastle.