Ajmal Shahzad: Nottinghamshire bowler wants change of luck

By Dave Bracegirdle
BBC Radio Nottingham cricket reporter
Last updated on .From the section Cricket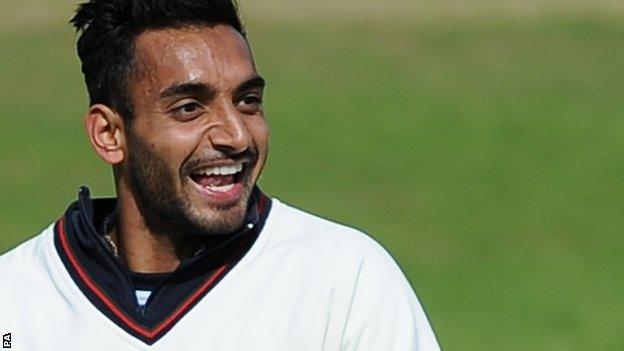 Successive relegation campaigns would dent the spirit of lesser players but Nottinghamshire new boy Ajmal Shahzad is confident that his fortunes are just about to change.
But he believes the winter move to Trent Bridge can get his career back on track.
Notts will once again be favoured to strongly challenge for silverware this summer, particularly if Shahzad is able to reproduce his best form.
"Obviously when I moved to Lancashire I thought that would be my new home for some time to come," he told BBC Radio Nottingham.
"I tried hard to fit in and they looked after me but it just wasn't to be. Now I've moved to Notts and Mick Newell and the lads have been very welcoming."
Newell, Notts director of cricket, explained why he was keen to acquire the all-rounder: "We think he's a very skilful bowler and already we like what we see in terms of pace and skill."
The new recruit will be keen to play in all formats but Newell has already identified a specific role for Shahzad.
"We think he'll bring a lot to our white-ball cricket," Newell explained. "We lacked a bit of experience last year under certain situations so when we knew he was available we were keen to get him on board."
Shahzad played in one Test match for England in 2010 but it is more than two years since the last of his 11 one-day international appearances.
He is aware that solid county form will be the only way to attract the eyes of the national selectors and has already stated his intention of getting back into the England reckoning.
"I'm not setting myself any long-term targets." reflected the 27-year old. "We all like to have personal goals, whether it be 50 or 60 wickets or 500 runs or whatever.
"But for me, at this moment in time, I have to take each game as it comes because we all know, even if you try to stay fit all season, you're probably not going to play every game because the squad is so strong."
The Huddersfield-born paceman said that even he was taken aback at the quality of the players at Newell's disposal.
"It hit me when we began playing matches on the pre-season tour in Barbados," he confirmed. "I looked around the dressing room and saw quality batsmen like Alex Hales, Michael Lumb and James Taylor and thought that we've still got the likes of Samit Patel and Ed Cowan to come - all really good international players."
The challenge of playing regularly in Nottingham also excites the new man, who has impressed whenever he has appeared at his new home.
"I've only played at Trent Bridge a few times," he said. "But I would like to think I've played well because I've always come up against a very good Notts side.
"I've always been one of those players that have relished a challenge, so when I've had to bowl against England players, or bat against England bowlers then the animal instinct comes out in me and it becomes a fight, a battle and I want to win. It brings out the best in me.
"I've done well here in the past but this is now my home ground. It's such a beautiful ground - a magnificent ground - and I'm proud to call this my home now."
Despite being on-board for such a short time Shahzad already believes his new team-mates have what it takes to pursue a successful trophy hunt this season.
"The guys are in very high spirits. We're massively motivated to win a trophy this year and we've got such strength in depth," he said.
"If one of the bowlers isn't firing on any particular day then there are a number of others who can step in and do the job instead. That's the sign of a good, solid team and hopefully that can take us to the championship this year."
If Shahzad, who became the first British-born Asian to play for Yorkshire. is to be believed then this could just be Nottinghamshire's year.
"We've got such a strong side. I've got a feeling that we're going to show everybody what we're about this year.
"It's such a nice feeling to be sat in that dressing room and look around and see so many elite performers either side of you. I've got a feeling we're going to do fantastically well."