Gloucestershire announce £2.9m record profit for 2012
Last updated on .From the section Cricket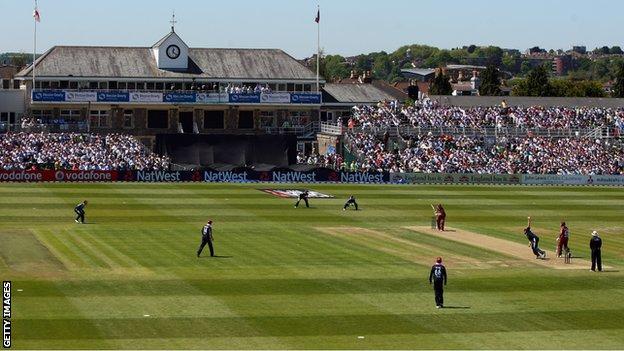 Gloucestershire have announced a record profit of £2.9m for the year ended 31 January 2013.
The lease of part of their Nevil Road ground to Linden Homes accounted for £2.8m of the surplus.
Nevertheless, the Division Two outfit made a trading profit of £108,000 - their best result since 2007.
But they were affected by the poor weather last summer, with gate income and membership reduced by £57,000 and £30,000 respectively.
In May, the club were granted permission to redevelop their Bristol ground, and work is underway on their new pavilion which is due to open in July.
Additional seating means Gloucestershire are able to maintain their international status and they are set to host England in a one-day international in 2014, which earned them £175,000 in their 2012 accounts.
Outgoing chairman, Rex Body, said: "This has been an exceptional year for the club, with the start of our long awaited development and the financial impact this has had.
"There is still more to do, however. We are committed to substantial continued development spend as well as increased playing squad expenditure so we will continue to exercise financial prudence. Nevertheless, these results augur well for the future.
"My thanks go to everyone who has contributed to the finances of the club over the past year."