Josh Cobb keen to captain Leicestershire in own style
Last updated on .From the section Cricket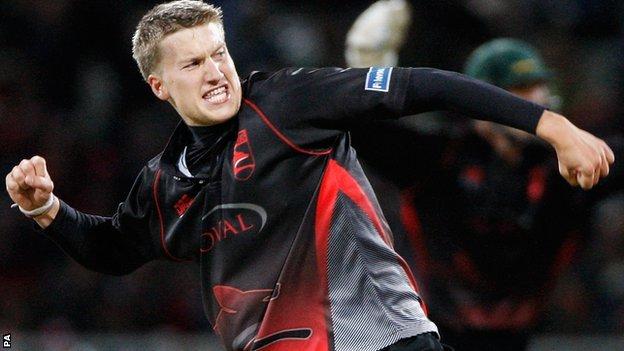 Leicestershire's Josh Cobb says it is vital he looks to captain the side in his own style when he steps in for West Indies batsman Ramnaresh Sarwan.
Batsman Cobb told BBC Radio Leicester: "Hoggy has been brilliant and is always there for a chat.
"To learn from him is great, but I want to bring my own brand of cricket."
Cobb, whose side start the new County Championship season against Hampshire on Wednesday, added: "Anything I can learn from the experienced players I will. They are all there behind me backing me so it can only be a good thing to have them on my side."
He said he was relishing the chance to lead the team - especially in the one-day formats of the game - where he will benefit from that fact he will be captain for the entire season.
"It is definitely something I am looking forward to doing," said Cobb.
"Originally it was going to be the one-dayers but it has turned out pretty well in that Ronnie will come and do the first games and I will take over for the seven in the middle and he will come back for a few at the end.
"I am looking forward to the responsibility and hopefully I can carry on getting my runs and lead from the front.
"From a tactical point of view, we might be a slightly different because he is from the Caribbean where he likes his bowlers to come in and hit people on the head!
"There will be slight change but if it's working early season then there will probably be no reason to change it."
And Cobb, who averaged 34.18 with the bat in the four-day game last season, hopes the captaincy will also help him continue to develop his own game.
"From where I was last year, if I can kick on again then it will be another good season," he said.
"As a captain, to be able to lead from the front is what you want and hopefully the other players will follow you, get behind and we can have a good year as a team."
Cobb is also hopeful that Leicestershire's batting line-up will be a more formidable prospect this season and believes the signing of Niall O'Brien is a big boost.
"Me and Ronnie had a good partnership last year but nine times out of 10 it was when we had our backs to the wall," he said.
"But Nobby coming in with that experience means there is more competition up front.
"The guys in form will hopefully be playing. We have every confidence in them getting us off to a good start and then allowing the stroke-makers to come in and change the game."