James Tredwell relaxed on Kent pre-season
Last updated on .From the section Cricket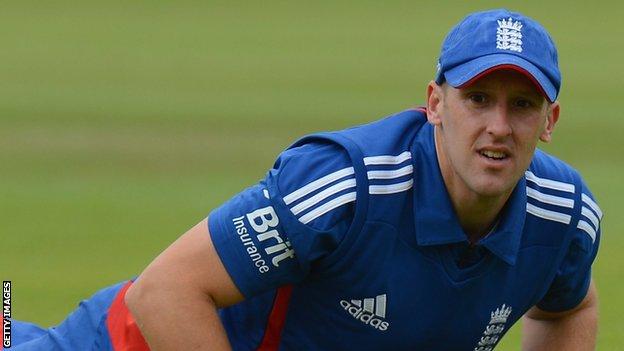 Captain James Tredwell does not think him missing the bulk of the county's pre-season will affect the Kent side.
The 31-year-old spent the winter on England duty in India and New Zealand.
He told BBC Radio Kent: "It's not ideal with me being away for pre-season but obviously Jimmy [Adams, Kent coach] is pretty hands-on in his role.
"He gave me updates and we talked about various things. It was busy at times but he kept in constant contact to keep me up to date with what was going on."
Tredwell, who was appointed Kent captain in November, played in all five matches in the one-day series against India in January and three Twenty20 internationals against New Zealand the following month.
He returned to Kent in time for their two-day warm-up match against Surrey and the match against Cardiff University, which began on Wednesday.
"Geraint Jones and Rob Key took leading roles while I was away and hopefully that continues," he said.
"We are all singing off the same hymn sheet and are looking to take the team in the same direction.
"It's about managing characters. I have captained a fair bit through the age groups, so I think in terms of tactics and reading the game, I am fairly good."
Tredwell flew back to New Zealand following injury to Graeme Swann and although he did not play in the Test series against the Black Caps, he believes he benefitted from his time with the national side.
"I was sitting on the sidelines but I guess that is going to happen when you get a late call," he added.
"You are around an exceptionally professional outfit with all the help you need with batting and bowling coaches and fitness help. It is good for your game.
"During the games you get a chance to go off and do a little bit and the coaches were helpful throughout that. It's always good to be around that set-up."
Kent begin their County Championship campaign away to Leicestershire on Wednesday, 17 April.