Champions Trophy: One-day game healthy, says Steve Elworthy
Last updated on .From the section Cricket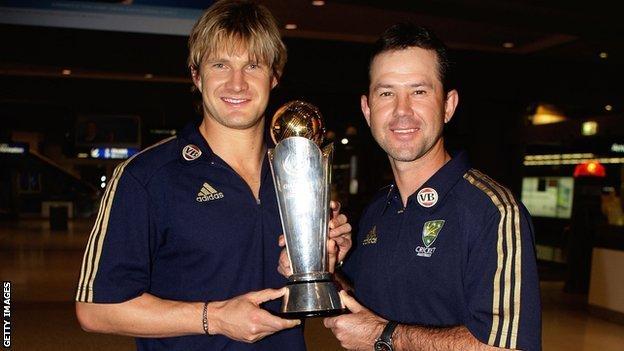 One-day cricket remains popular, according to the tournament director of the ICC Champions Trophy - an event set to be axed from the cricket calendar.
The competition will be held for the last time in England in June before giving way to a Test championship, set to be debuted in 2017.
"It's a shame it is pencilled in to be the last one, it's a great tournament," said event chief Steve Elworthy.
"One-day cricket as it is now is incredibly popular."
In the 10 years since it was first played professionally, Twenty20 has arguably become the most popular form of limited-overs cricket.
The 50-over game has had constant tweaks to its format in a bid to remain popular, but Elworthy insists there is room for two short versions of the game.
The former South Africa all-rounder said: "We have seen increases year on year in terms of one-day attendances and the Champions Trophy has highlighted that.
"We need to settle and let it to be. We need to let changes bed down for a while.
"Changing it too many times - it does create some confusion.
"The current format with the powerplays are working, it is about getting the right balance between bat and ball."
Despite the tournament taking place a month before the Ashes, Elworthy is optimistic the matches will attract good attendances.
"At the back of your mind there is always going to be a bit of a niggle - I would be lying if I said that wasn't the case," he continued.
"It does attract the other nations. The Ashes of course is a huge event in itself, but the Sri Lankans, Pakistan, West Indies fans are drawn. Those supporters are very passionate and will come out in their thousands to support their team."
The Champions Trophy began life in 1998 as the ICC Knock Out Tournament and was played every two years until 2008, when security fears in host nation Pakistan resulted in competition being staged in South Africa a year later.
With the inaugural World Twenty20 taking place in 2007 and the International Cricket Council hoping to stage a 2013 World Test Championship, it was thought that the 2009 Champions Trophy would be the last.
But, in November 2011, plans for the Test competition were postponed, with a final Champions Trophy scheduled for this year.