Umpire Nadeem Ghauri banned by Pakistan for four years
Last updated on .From the section Cricket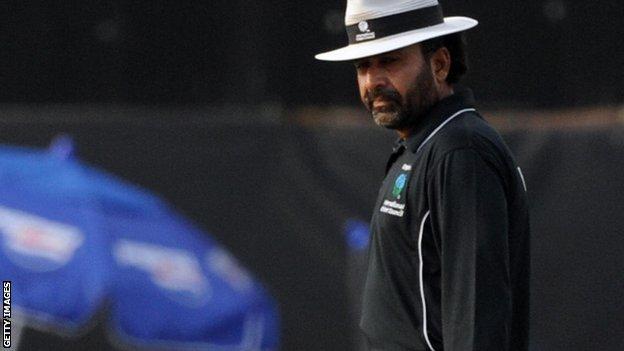 Former international umpire Nadeem Ghauri has been banned by the Pakistan Cricket Board for four years.
"It is a big shock to me. I have never indulged in corruption in my life as player or umpire," said Ghauri.
The PCB also announced that it had banned domestic umpire Anis Siddiqui for three years.
The India TV programme broadcast in October alleged that six umpires were willing to give decisions favouring players for money in warm-up games ahead of the 2012 World Twenty20 tournament in Sri Lanka.
"The PCB has a zero tolerance policy for corruption or indiscipline," said PCB chairman Zaka Ashraf.
"We are committed to creating awareness amongst our players and officials with regards to the possible pitfalls."
Ghauri, who played one Test and six one-day internationals for Pakistan in 1990, umpired five Tests, 43 ODIs and four Twenty20 internationals from 2000 to 2010.
The Bangladesh Cricket Board banned umpire Nadir Shah for 10 years in March 2013 after its own investigation into the allegations in the India TV programme.
While the PCB and BCB formed inquiry committees, Sri Lanka Cricket, the home nation of three of the accused officials, has yet to start investigating the matter.