Stephen Moore column: Promotion is Lancashire's main goal

By Stephen Moore
Lancashire opening batsman
Last updated on .From the section Cricket25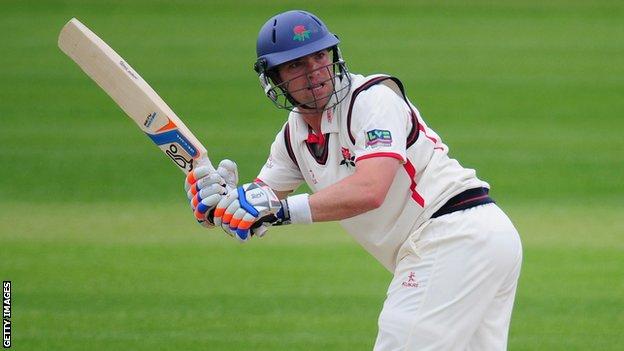 The 2013 county season is under way and we are playing in the second division of the Championship after a difficult and disappointing summer last year.
During the long winter months, time has been spent reviewing, improving, and preparing. Despite our obvious disappointment, we have to learn our lessons from the last two county seasons.
Our squad has remained largely the same over the last three years. With this in mind, we have a relatively unique opportunity to learn from the experience of winning the Championship one year and being relegated the next.
This stark contrast puts into context two vital performance points. Getting off to a good start and winning matches is fundamental to winning the division, and the margins between success and failure in top-level sport are so small that it can be difficult to pin-point exactly what needs to be addressed in order to improve performances.
Off-season training for us was conducted in small groups, spending only one day a week together as a squad, with the rest of the time focussing individually on our skills, strength and conditioning.
Some new recruits both in the playing squad and behind the scenes, together with settling into our new extraordinary stadium 'Emirates Old Trafford' has given everyone a real boost, and there is a tangible sense of expectation in the dressing room.
Our new sponsorship deal enabled us to time our pre-season trip to Dubai to coincide with the unseasonal snowy spring weather in the UK.
Unlike last year when we had a very successful trip to Abu Dhabi, this year our results were not as favourable.
However, sometimes this can be a good thing as when you lose matches, nothing is glossed over. All realities and 'home truths' were addressed which provided us as individuals and a squad with real clarity going into the season.
Statistics suggest that we should return to the first division next year, but we cannot afford to take anything for granted.
Our aim is to win the second division this year by playing our brand of cricket to the best of our abilities and despite a rain-affected draw against Worcestershire last week, we can take heart from a solid performance on an easy-paced pitch.
Our one-day cricket has been strong for the last few seasons and our goal is to take ourselves once again into the knockout stages of both competitions, where we know if we deliver our skills, we can add silverware to the club's historically great one-day record.
You can follow Stephen Moore on Twitter at: http://twitter.com/stephen_moore6 (external site) and you can also leave questions below for him to answer in future columns.