Trent Copeland has 'Glenn McGrath mentality' on bowling
Last updated on .From the section Cricket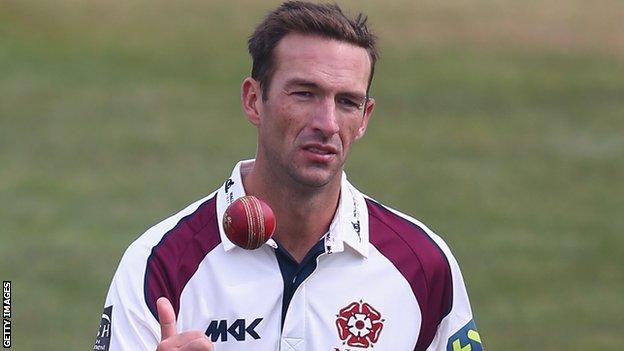 Northants' Trent Copeland anticipates more success with his style of bowling after a solid start at Glamorgan.
The 27-year-old Australian took 1-43 in 27 overs as Northants dominated the match, which was drawn.
Copeland told BBC Radio Northampton: "I'm disappointed not to have taken more wickets but I'll probably bowl worse and end up with better figures.
"It's the Glenn McGrath mentality of putting enough balls in the right area and you'll get one to go your way."
He continued: "I'm not that 85-90mph bowler so I need to have line and length, the ball moving both ways, relying on consistent pressure and getting mistakes that way."
Copeland, who only arrived in England the day before the County Championship opener, says the team have already shown signs they will improve on the 2012 campaign, which yielded just four wins from all competitions.
"The boys having had not such a great year last year have spoken about it and [for the bowlers] it's about hunting in a pack and putting the opposition under combined pressure, not just under one end," Copeland said.
"They've worked really hard in the winter on not only their on-field performances but the culture behind that, being that little bit more professional and being ready to go.
"Stephen Peters is obviously in very good form and James Middlebrook did a great job. We bat right down to number 11 - that's encouraging - and the bowling attack, have worked well together.
"I can't see why we can't be pushing for that top spot."
Although Copeland is only set to play for Northants until 8 June, head coach David Ripley has not ruled out re-signing him or another player for the second half of the season.
"I was very impressed, he was very unlucky," said Ripley.
"On another spell, he could've pickled up some more edges and had a five-fer, and the scoreboard never went anywhere because of his accuracy.
"[Re-signing Copeland] is definitely a possibility. We would be looking for someone towards the end of the season but we've got to be competitive in the first half and that would encourage us to perhaps spend a bit of money on bringing Trent or another player in to support us to get over the line at the end of the season."