Lancashire report £1.5m loss for 2012 financial year
Last updated on .From the section Cricket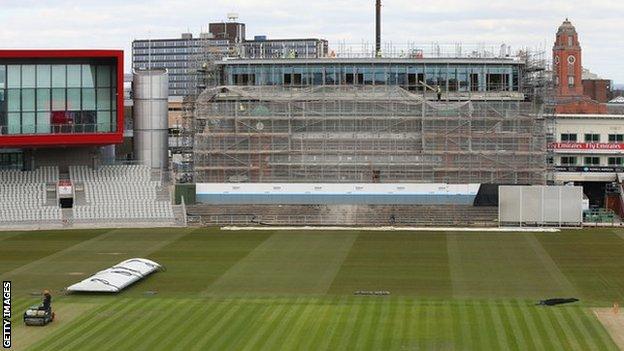 Lancashire have posted a loss of £1.5m for the last financial year.
However, finance director Lee Morgan is optimistic their position will improve in 2013 and beyond.
The £45m redevelopment of Emirates Old Trafford is due to be completed in May, while Test cricket will return after a three-year absence in August.
"When you run a business like ours, which is set up to host Test match cricket and it doesn't, it leaves a massive hole in the budget," he said.
Morgan told BBC Radio Manchester: "When you combine that with a reduced capacity and the need to invest in some temporary facilities, both at Old Trafford and at out grounds, it's not unexpected and was largely budgeted for.
"The one variable, which was exacerbated last summer, was the impact of the poor weather. People really got out of the habit of watching cricket."
Despite the loss, Lancashire's net debt was reduced by more than £3.1m during 2012.
The county in February this year, while a new-look Old Trafford will be the venue for the
The ground will also host Tests in 2014 and 2016.