Shropshire: Richard Oliver looks to Richard Sharp to make impact
Last updated on .From the section Cricket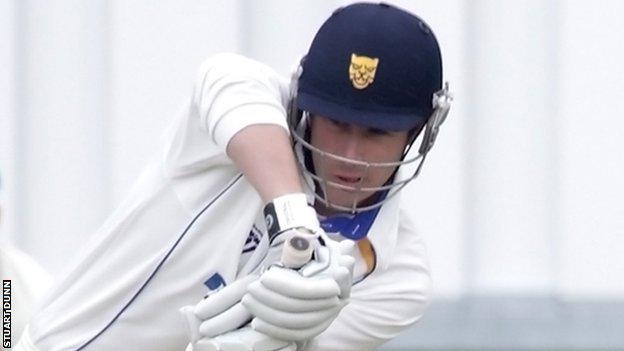 New Shropshire captain Richard Oliver hopes Kevin Sharp will make an impact on his return to the county as coach.
The 54-year-old ex-Yorkshire batsman was a popular figure during his five years as a player from 1993 to 1997, when he also doubled up as the county's cricket development officer.
"I'm so pleased that Kevin has now come on board with his experience and his wealth of knowledge," said Oliver.
"It's a great opportunity for everybody to learn from what he has to offer."
Yorkshireman Sharp had been part of the coaching team back with his native county at Headingley, until departing as part of the shake-up that heralded Jason Gillespie's return to Leeds in October 2011.
Since then, he has been director of cricket at Giggleswick School, at Settle, in North Yorkshire.
And Shropshire chairman Toby Shaw sees the chance to bring back Sharp to Shropshire as quite a coup for the county, as they look to build upon their fourth-place finish in the Western Division in a badly-rain-affected 2012.
"Kevin will have a very hands-on approach with the players," said Shaw. "There will be times when he can help Richard, particularly in pressure situations during games."
"Kevin will be a great appointment for the team with his experience."
Shropshire start their season on Sunday, 21 April with an MCCA Knockout Trophy clash against Lincolnshire at Shrewsbury.
And Oliver, who has signed to play for Birmingham League side Shifnal this summer after playing club cricket in Surrey for Reigate Priory last year, is looking forward to the challenge of succeeding Ed Foster as skipper.
"Ed's a very hard act to follow," said Oliver. "But I love the responsibility of trying to raise the intensity in everyone's game. Trying to get the best out of other people is what I thrive on.
"The weather will play a big part early on but the boys are really keen and their attitude has been fantastic," added Oliver, who has spent the winter playing grade cricket in Australia for Geelong.
"There's real possibilities with the talent and ability we have within this group of players.
"It's actually frightening to think what we could achieve should things go our way."