Surrey: Chris Adams has 'strongest squad' since his arrival
Last updated on .From the section Cricket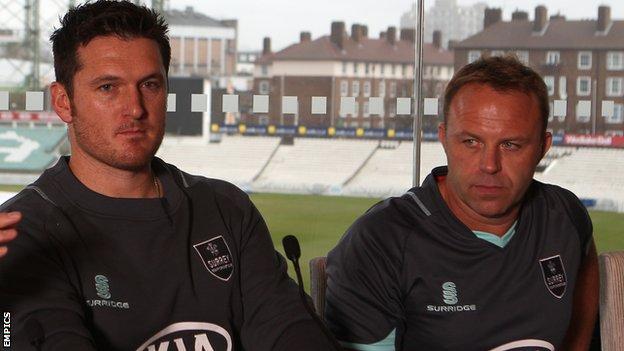 Surrey team director Chris Adams says his current squad is the strongest he has had since joining the county.
Adams told BBC London 94.9: "It's my fifth season here and I can say this is the strongest squad I have been able to compile and have available.
"On paper, for the first time I have real problems in terms of the rivalries in selection."
As well as Smith and Ponting, Surrey have recruited two more over-30s in batsman Vikram Solanki and left-arm spinner Gary Keedy, but Adams said the average age of the squad was still only 26.
"Vikram Solanki and Gary Keedy come here with terrific careers behind them and still have much to offer," he explained.
"Ricky Ponting will join us for a couple of months and it is exciting to have one of the great players of all-time, who is still on fire."
Former Surrey and England captain Alec Stewart believes the signing of Smith is "the biggest in county cricket" since Australia spinner Shane Warne joined Hampshire in 2000.
Smith, 32, hopes to instil a winning culture at the club and Adams is happy for the South African to help mould the direction the club will take over the next decade.
"To be linking up with Graeme for the next three years is terrific," continued Adams, who before joining Surrey captained Sussex to five trophies in five years.
"It is amazing to think that not just the best captain of his era, but arguably one of the great captains of all-time as well as a terrific opening batsman is joining us for what we hope will be a period in the club's history which yields a lot of success on and off the field and leaves behind a legacy.
"That's the word I've heard from Graeme. He sees his time here as being one that leaves a strong legacy of quality cricket and success on the field in line with a great club like Surrey.
"We want to set a foundation within the squad as to how this team is going to play its cricket, not just for the next two or three years but for the next 10.
"We are here to win trophies, that is what we are here to do as a group, a club and a team. We feel we can compete in all forms of the game. There is no one form I feel we are stronger in."
Meanwhile Adams feels that the likes of Smith, Ponting, Solanki and Keedy will help the next generation of cricketers, some of whom have already broken into the Surrey first team.
"With the likes of Rory Burns, Arun Harinath, Zafar Ansari and Tom Jewell coming through, it really is very exciting," he added.
"Most learning styles rely on being able to feed off quality information, knowledge and experience and the ability to watch it in action. That is what we are here for.
"Yes, we want success on and off the field but one of my priorities is to make sure that each talent that comes into the squad has the very best chance of reaching its potential and going as far as they can."