Salman Butt & Mohammad Asif: Pakistan cricketers lose appeals
Last updated on .From the section Cricket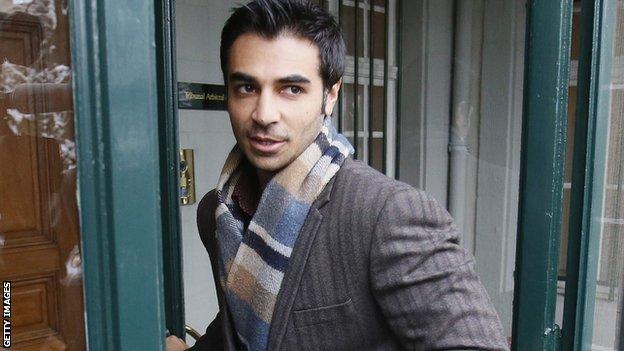 Salman Butt and Mohammad Asif have lost their appeals at the Court of Arbitration for Sport (Cas) to have their bans from cricket overturned.
Butt, 28, is said to be "bitterly disappointed" and his legal team plan to continue to fight the ban.
"In the coming days and weeks, we will be exploring every other available avenue," said one of his legal team.
Butt is banned for 10 years by the International Cricket Council (ICC), with five years suspended, while swing bowler Asif is banned for seven years, two of which are suspended.
ICC chief executive David Richardson said: "The ICC notes and welcomes the decisions of the CAS as they vindicate and confirm the processes and procedures followed by the ICC over the past couple of years in respect of this important, sensitive and high-profile matter.
"The decisions strengthen our resolve to always remain vigilant and keep the game clean at all cost, whilst continuing to educate the players about the threats and ways to combat the challenges faced by our sport."
Butt's legal advisor Amer Rahman added: "Salman has been in a very dark place over the last few years and he was hoping that he would be successful in this appeal."
Cas says Butt did not contest his liability in the case but had requested a shortening of the ban, while Asif had request the annulment of the ICC's decision on procedural grounds.
The statement said: "The Cas panel was not persuaded that the sanction imposed by the ICC Tribunal was disproportionate, nor that any of the mitigating factors advanced by Mr Butt qualified as exceptional circumstances.
"The Cas panel found that there was no evidence advanced by Mr Asif which clearly exculpated him and that his submissions did not break the chain of circumstantial evidence or in any way undermine the reasoning contained in the ICC Tribunal's decision.
"For those reasons, the panel was satisfied beyond reasonable doubt that Mr Asif was a party to the spot-fixing conspiracy."
Captain Butt and bowlers Amir and Asif were found to have deliberately bowled no-balls as part of a betting scam during the Lord's Test against England in August 2010
All three were subsequently convicted and jailed in November 2011.
"All Salman has ever wanted is to play the sport he loves. It is therefore extremely disappointing that the decision has gone against him," said Daniel Rajah, Butt's solicitor.
Team-mate Asif also had his appeal heard on Thursday and discovered shortly after Butt that he too had failed to have his ban overturned.
The third Pakistan cricketer, Amir, who was 18 at the time of the offence, was was banned for five years and sentenced to six months in jail. He did not appeal against his ban.