Shane Watson gives up Australia vice-captaincy ahead of Ashes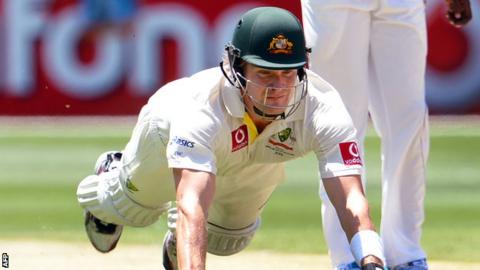 Shane Watson has stepped down as Australia vice-captain in all formats less than three months before the first Ashes Test.
The 31-year-old all-rounder said he has given up the role to concentrate on improving his game.
"I think it's the right time for a change for both the team and me," said Watson, who captained the side in their fourth Test defeat by India in March.
"I want to be the best Test player I can be for Australia."
He added: "I can do that by stepping down from the vice captaincy to focus my attention on scoring runs, taking wickets and doing whatever is necessary to help the team achieve success."
Watson's form was questioned after a turbulent tour of India, in which Australia were whitewashed 4-0.
Watson averaged 16.5 runs with the bat, his highest innings total being just 28 despite relinquishing bowling duties to concentrate on his run-scoring.
He was also among four players dropped for the third Test after failing to provide a presentation to coach Mickey Arthur on team strategy, although he captained the side in the fourth Test following injury to Michael Clarke.
Watson was named vice-captain in March 2011 but has not scored a Test century since October 2010.
Australia will hope his decision to give up the role will prompt an upturn in form with the first Ashes Test against England beginning on 10 July at Trent Bridge.
"I wrestled with the decision for some time. However, once I made up my mind, I informed Cricket Australia so the selectors could consider their options for the Ashes given the squads will be announced soon," said Watson.
"I won't be the vice-captain in title but I think I can still be a leader and strong contributor around the group."
Cricket Australia insist the decision will not affect his selection.
National selector John Inverarity said: "Shane Watson should be commended for making the tough call to step down from the vice-captaincy to focus on playing.
"Regardless, he will still be an important senior leader within the team."