Northants chase unnamed batsman for T20 campaign
Last updated on .From the section Cricket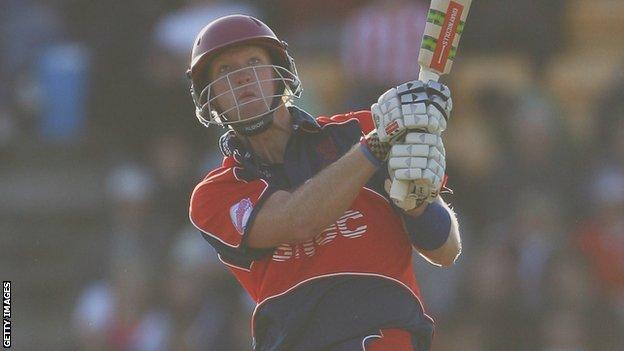 Northants chief executive David Smith says the county are in talks to bring in a second overseas player for this summer's FL t20 campaign.
The unnamed player will feature alongside Australian Cameron White.
"We're fairly close to announcing a second overseas player for the t20 competition," Smith told BBC Radio Northampton's Friday Night Sport.
"It will be a batsman if all goes according to plan and we're hoping a significant one for the club."
Northants had a dismal time in the T20 competition last summer, winning only one game and finishing sixth in their group.
"We hope to be a bit more competitive in t20 this year, which was a real disappointment in 2012 for everyone," said Smith.
Meanwhile, the club are hoping White's compatriot Trent Copeland could return for a second spell later in the summer.
Copeland has made an excellent impression so far this summer with his steady seam bowling, and also scored 70 off 67 balls batting at number 11 in their Championship Division Two win over Essex.
He is only due to stay with the club until 8 June, but Smith confirmed they would be inviting him back
"We have five Championship matches from August 21st. We haven't discussed it with Trent yet but he's enjoying it here - though I'm not sure he's enjoying the temperatures right now as you would expect.
"He's been a great asset as a player and if we can get him back, great.
"If there's been a better number 11 in county cricket than Trent Copeland, I've never seen one. I thought he looked like Greg Chappell at times," he said.
Northants could have had back-to-back wins in the Championship, with only rain denying them victory in their opening fixture against Glamorgan.
Smith has been satisfied with their start and particularly pleased for captain Stephen Peters, who made a half century in both matches.
"I'm delighted at the way things have gone and especially for Stephen and [head coach] David Ripley. Stephen's led from the front and has united the entire dressing room," Smith added.
"It's a long season, but we are going to enjoy the good days while we go.
"The environment in the club is really good at the moment and we recognise we're winning at the moment, but we are realistic about where we are and we've got a long way to go."