Robin Walsh is elected as the new Cricket Ireland President
Last updated on .From the section Cricket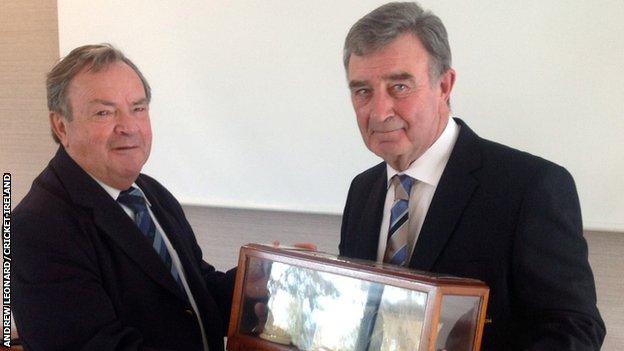 Robin Walsh has been elected as the President of Cricket Ireland.
The journalist and former Controller of BBC Northern Ireland takes over the role from Arthur Vincent.
Walsh, 73, has been heavily involved in the sport in Ireland right from his days of playing schoolboy cricket for Foyle College in his native Derry.
"Irish cricket has been one of the great success stories of recent years and I am deeply honoured to be elected its president," said Walsh.
The Londonderry man served as President of the Northern Cricket Union and is also a former honorary public relations officer of Irish cricket.
In recent years he has been cricket correspondent of the Sunday Life newspaper and chairman of the Cricket Writers of Ireland - positions he has now relinquished.
Former North West chairman and current chairman of the Cricket Ireland cricket committee Joe Doherty was named President-elect and will take the reins from Walsh in 12 months time.
Cricket Ireland's AGM in Dundalk also heard that the Irish governing body suffered a financial loss of around £68,000 in 2012 that largely could be attributed to last summer's bad weather, which hit so many fixtures.
"Similar to many other cricket nations and Counties, the weather conspired against the business of cricket in Ireland last year," said Cricket Ireland chief executive Warren Deutrom.
"However, on the field, our male and female players of all ages continue to do us proud, while a two-thirds growth in participation numbers year-on-year is a powerful testament to the extraordinary growth of the game in Ireland, not to mention the tireless work of our magnificent volunteers and development staff."