David Willey aiming to move up Northants batting order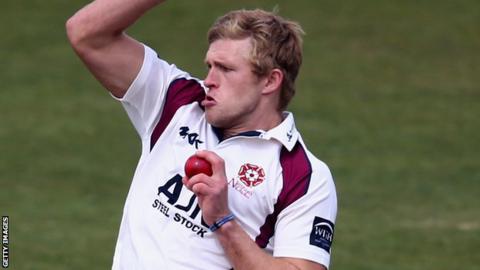 Northants' David Willey says the team's lower order will be "itching" to move up the batting line-up after an impressive display against Essex.
The 23-year-old scored 76 from 78 balls in an innings which also included 70 from Trent Copeland and an unbeaten 88 from Steven Crook.
Willey told BBC Radio Northampton: "We do bat all the way down to 11.
"I'm happy [being] down there and batting like a number six - ultimately that's where I'd like to be."
Willey, who was born in Northampton, has eight first-class half centuries to his name but no centuries as yet.
"I had a bit of a shocker down in Cardiff, so I was just trying to play straight to start with," he added.
"I like to score quickly but I have to give myself half a chance to start with.
"It's quite likely we'll keep the same order [for the match against Gloucestershire] but we'll all be itching to bat a little higher."
Willey also took a five-for in the match against Essex, the fourth of his career, but admits there is still some room for improvement.
"I'm not particularly pleased with how I'm bowling at the minute," he said. "The ball doesn't seem to be coming out in the right area often enough and I'm leaking a few too many runs.
"Fortunately, I've come away with a five-for, somehow."