Salman Butt & Mohammad Asif asked to 'come clean'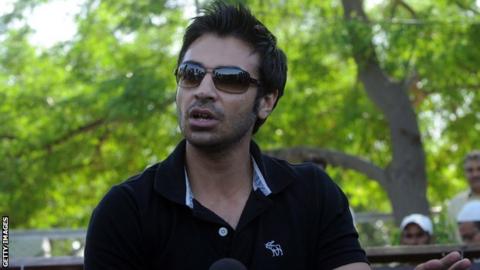 The International Cricket Council has asked banned pair Salman Butt and Mohammad Asif to "come clean" and help fight spot-fixing.
The Pakistan duo were found guilty of "spot-fixing" in 2011 and lost their appeals against their bans at the Court of Arbitration for Sport last week.
ICC chief Dave Richardson said: "I would urge them to start the process of rebuilding their lives and reputations by apologising for their actions and meeting with ICC's anti-corruption officials to come clean."
Butt, Asif and Pakistan team-mate Mohammad Amir were found to have deliberately bowled no-balls as part of a betting scam during the Lord's Test against England in August 2010. All three were subsequently convicted and jailed.
Butt is banned for 10 years by the ICC, with five years suspended, while Asif is banned for seven years, two of which are suspended. Amir has admitted his guilt, while Butt and Asif have always maintained their innocence.
However, the Court of Arbitration for Sport (Cas) says Butt, described as the orchestrator of the plot, has admitted his role.
Richardson said: "The guilt of these men has now been established on three separate occasions, in three separate sets of proceedings and in three separate forums.
"The time has now come for them to stop misleading the members of the public, especially the supporters of the Pakistan cricket team, and to publicly accept their parts in this corrupt conspiracy.
"In addition to the Cas finding Mr Asif a party to the conspiracy to act corruptly, it is also pleasing to note from the decisions that Mr Butt acknowledged his part in the fix before the Cas panel.
"I am certain that both Mr Butt and Mr Asif have information that can be of great assistance to the [ICC's] Anti-Corruption and Security Unit and its ongoing fight against corruption in cricket."
"We are pleased to note that the Cas panel rejected each and every one of the allegations that were made of prosecutorial misconduct by the ICC, and bias and incompetence on the part of the independent Anti-Corruption Tribunal. The Cas decision also justifies all of ICC's ongoing anti-corruption efforts.
"In my opinion, the single biggest threat to the viability and strength of the sport of cricket, both at international and domestic level, is that posed by those few unscrupulous individuals who, for unlawful financial reward, choose to engage in corrupt practices."