Ashes 2013: Middlesex eyeing Chris Rogers replacement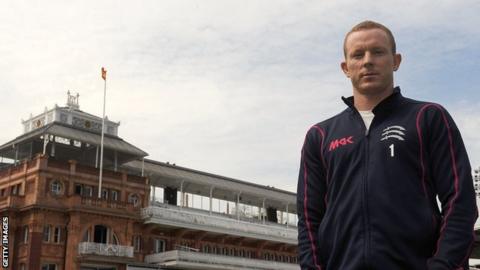 Middlesex managing director of cricket Angus Fraser says the club are working on a replacement for Chris Rogers.
On Wednesday the 35-year-old batsman was named in Australia's Ashes squad.
Fraser told BBC London 94.9: "We will have to get by without an integral member of our side.
"We were aware it could take place so we had spoken to people prior to the season about the possibility of them filling in should this happen. Now we are going down that route."
He added: "Hopefully we will have something to announce in the not-too-distant future."
Australia play their first tour match against Somerset in the last week of June, with the first Ashes Test beginning on 10 July at Trent Bridge.
Neil Dexter will replace Rogers as Middlesex's captain for the four-day game while the Sydney-born player is on duty with the national side.
"Chris's selection hasn't come totally by surprise," Fraser said. "You watch his performances, the fact he is continually one of the top run-scorers and the fact Australia's batsmen haven't exactly been piling on big scores.
"He'll play our first eight Championship matches and hopefully YB40 cricket until the 22 or 23 of June.
"Hopefully the player we've got in mind will join up the next day. If it all goes according to plan it could dovetail nicely."
Fraser confirmed he had spoken to Adam Voges, who will play for Middlesex in the FLt20 this summer, about the possibility of filling in for Rogers.
"That has been part of our contingency and he is someone we have talked about in that position," he said.
Rogers has only made one Test appearance for Australia, which came against India in 2008.
On the eve of the season the Middlesex skipper spoke of his ambitions of another opportunity to play at the highest level and Fraser has welcomed his inclusion in the Ashes squad.
"We're chuffed for him," Fraser said. "Everybody at the club is delighted for Chris and that we as a club have played a small role in that.
"We want all our cricketers to fulfil their ambitions. He has an impressive first-class record and has had a positive effect at Middlesex.
"He contributes on and off the field and I am sure he will be a positive influence around the Australia dressing room."