Mitchell Johnson: Northants ponder move for Aussie paceman
Last updated on .From the section Cricket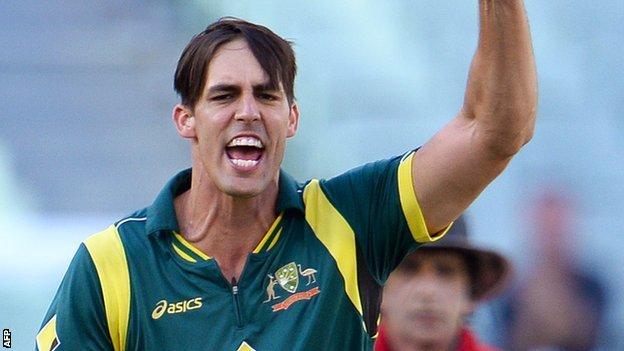 Northants chief executive David Smith has said the club will consider making an approach for Mitchell Johnson.
and could therefore be available for an English county's FL t20 campaign.
"He's a player that would interest most that have a vacancy.
"He's someone I know [head coach] David Ripley is looking at, along with one or two others at the moment," Smith told BBC Radio Northampton.
Northants had hoped to bring in Johnson's fellow countryman Shaun Marsh as their second overseas T20 player alongside Cameron White, who has already been
However, batsman Marsh turned down an offer from Northants, forcing the club to look elsewhere.
"We're following up our next in line," said Smith. "I think most people are aware that with Mitchell Johnson having not been selected for Australia, clearly he has become a candidate for a number of counties for T20.
"My understanding is he doesn't want to play [four-day] county cricket, he wants to play T20. [But] He's likely to have some involvement with the Australia one-day team after the Ashes."
Johnson, currently playing for Mumbai in the Indian Premier League, is best known for his quick left-arm bowling, but has shown ability with the bat in the past.
"Whoever we bring in will be a batsman or an all-rounder. Batting prowess will be required.
"The problem with a bowler is they can only influence four overs of the game," added Smith.
"Mitchell's a good all-round cricketer. He has a Test hundred and he hits a pretty hard ball in white-ball cricket. We feel the balance of someone of that ilk would be considered."