Sussex: Luke Wells says stamina was key to double ton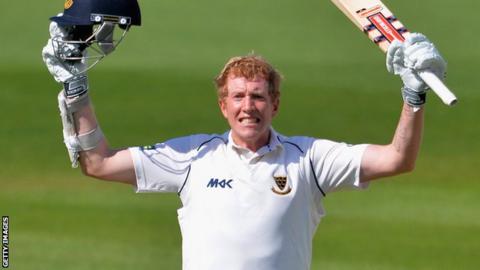 Sussex batsman Luke Wells says his natural stamina was behind his career-best score of 208 against Surrey.
The 22-year-old batted for almost nine hours at the Oval, facing 412 balls across two days to pass the milestone.
He told BBC Sussex: "Luckily I think being able to bat for long periods of time it is something that comes reasonably naturally to me.
"I know I can get a good score on the board if I am there for any sort of time."
He added: "It was obviously hard work and after I got my double I tried to get stuck in and increase the scoring rate a bit.
"Unfortunately, I couldn't carry on from there."
Wells, the son of former Sussex and England batsman Alan, began the third day of the match against Surrey on 108 not out.
"I had a chance to go on and make a big score and thankfully I was able to do it," he said.
"It was tricky but the new ball may have helped the scoring rate a bit. It made the ball come onto the bat a bit quicker.
"I was very chuffed. It is obviously a big milestone."
Wells was pleased to be able to go on and beat his previous career-best score of 174, which came against Yorkshire in 2011.
"I was aware of it but I tried to stick to my processes and what I try to do before each delivery," he added.
"As I passed it, it gave me a boost but I knew I could get my head down and try and get the double."
Wells says he received sledging after being the subject of unsuccessful appeals by the Surrey bowlers on his way to his first century on day two of the match, which ended in a draw on Saturday.
"It is the umpire's decision and the same with every innings you play," Wells said
"Batsmen and bowlers feel hard done by. I attract sledging all over the country.
"I think it is quite an in-house joke that I am the most sledged county cricketer in England.
"I am actually quite used to it and in some ways it helps me get in the battle and keep going.
"I don't really know why it is. If I stick around they try and get into my head and make me make a mistake.
"Sometimes it has the opposite effect and makes me work a bit harder."