England v New Zealand: We're not Ashes warm-up, says Hesson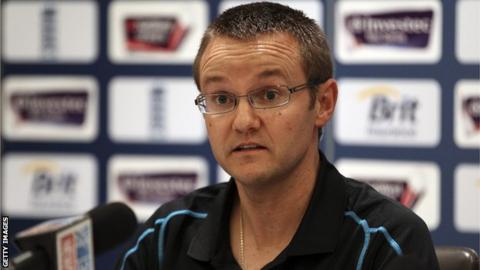 New Zealand head coach Mike Hesson hopes their two-Test tour of England will not be seen as just a warm-up for the Ashes later this summer.
After their drawn Test series in New Zealand in March, England face the Kiwis in two home Tests, starting on 16 May at Lord's and 24 May at Headingley.
"We're making progress as a Test side and won't like to be the entree for the main course," Hesson said.
"It's a tough place to tour and we've got to be on the top of our game."
The final-day heroics of wicketkeeper Matt Prior denied the Black Caps a rare Test series win over England after the hosts had controlled the third Test in Auckland.
They eventually fell one wicket short of victory, with Prior and Monty Panesar keeping out the last 19 balls.
"I've tried to forget about that game," Hesson said. "England's record in England in recent times has been outstanding. Playing here is the pinnacle and the guys are very excited."
New Zealand will play a three-day warm-up against Derbyshire from 4-6 May without captain Brendon McCullum and Ross Taylor, who are playing in the Indian Premier League.
Kane Williamson, who will captain the side in Derby, said: "We've got nothing to do with the Ashes.
"We haven't looked at it in any way and we're targeting our preparation ahead of the first Test."
McCullum and Taylor are due to arrive in time for the final warm-up match against the England Lions, starting on 9 May.