Joe Root mirroring Alastair Cook's career path - Alec Stewart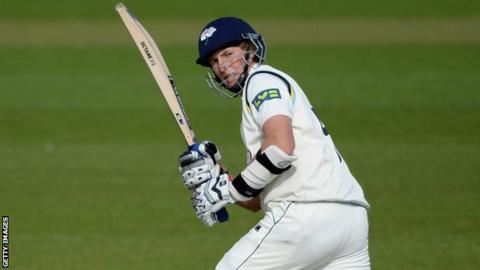 Joe Root has started the season in quite superb form, scoring a double hundred against Derbyshire on Wednesday after leading Yorkshire to victory with a classy 182 against Durham over the weekend.
It has certainly been a week to remember for the 22-year-old, who has also been named captain of the England Lions for their match against New Zealand which begins on 9 May.
It is a real feather in the cap for Root, who has obviously impressed the selectors and shown he possesses genuine leadership potential even at such a young age. He is almost mirroring the same path taken by the current England captain Alastair Cook, and if he can achieve close to what the Essex opener has done he will have a very successful career.
In recent years there has been criticism of the England Lions by some counties who do not like their best players being taken away from them and missing crucial Championship fixtures.
For example, next week Warwickshire are contributing three players - Chris Woakes, Chris Wright and Varun Chopra - to the Lions while their opponents Middlesex will be missing only Toby Roland-Jones.
I do not agree with this criticism as I am a firm believer that players should be selected purely on merit and earn their England honours, as opposed to being selected just because their county happens to have a free date.
The England team, whether it is the senior side or the Lions, should always be seen as the pinnacle and the counties should feel proud that one of their own is being recognised by the national selectors, rather than view it as a handicap.
England have named a strong Lions side, with Root and Bairstow almost certain to play a part in the Test team during the summer and the likes of Roland-Jones, Wright and Chopra will be keen to put in strong performances to nudge themselves closer to the door of the senior side.
During my playing days, I often felt the England A side, which toured during the winter, consisted of some players who never had a chance of playing Test cricket but had been included solely because they had a half-decent season.
Thankfully those types of selections are well and truly behind us as all of this Lions squad fully deserve their call-ups. They either have obvious international potential or have performed consistently well in county cricket for a number of summers.
One of those players is Michael Carberry, who spoke about his surprise at being called up at the age of 32.
As an admirer of the Hampshire opener, I hope he quickly realises he is still firmly in the selectors' thoughts following the retirement of Andrew Strauss.
Cook, Root and Nick Compton are certainly ahead of him at the moment, but Carberry should certainly not worry about his age - just look at Australia, who have selected 35-year-old Chris Rogers in their Ashes squad.
If you are good enough, you are young enough and Carberry should concentrate on scoring big runs so that he is next in line if there is an injury or loss of form.
England stars proving their class
Apart from the injured Kevin Pietersen, all of England's top players are now back playing country cricket ahead of a big summer.
The majority of them have been scoring runs or taking wickets and showing their county colleagues what it takes to be an international cricketer through their preparation and performances.
It is particularly pleasing to see some of England's recently injured players, like Graeme Swann, Tim Bresnan and Chris Tremlett, back plying their trades.
It all bodes well for this summer's battles against New Zealand, Australia and in the Champions Trophy.
Happy 50th birthday to one-day cricket
The Yorkshire Bank 40 competition begins on Friday, just two days after the one-day game celebrated a special milestone.
It is 50 years since the first Gillette Cup match was played at Old Trafford between Lancashire and Leicestershire.
Although it was a 65-over-a-side format then, the fact that one-day cricket is celebrating such a milestone shows how integral it has become to the game.
With the advent of Twenty20, people question if there is enough room in the calendar, but this anniversary goes to show that one-day cricket is still very popular.
We have seen the regulations and structures of one-day cricket evolve over the years yet it continues to provide good, exciting cricket.
In the YB40, I would expect to see Somerset, Warwickshire and, being totally biased, Surrey perform strongly this year.
Somerset and Warwickshire have been contesting the one-day trophies in the last couple of years while Surrey won the CB40 in 2011.
All of the counties will be looking to get to the Lord's final - always a special day in the domestic calendar - but winning it is a real challenge.