Gordon Drummond gives up Scotland captaincy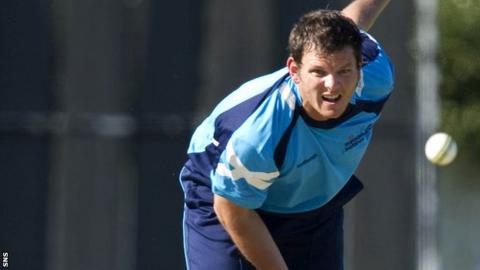 Seam bowler Gordon Drummond is to step down as captain of Scotland but will continue to play for his country.
The 33-year-old cited a combination of work commitments and competition for places as reasons for his decision.
He was the only non-full-time professional in the squad for the recent matches against Afghanistan.
"My professional life and playing situation mean that I feel it's time to pass the leadership on to someone else," said Meigle-born Drummond.
"It's been an unbelievable experience having had the opportunity to captain Scotland and the Saltires.
"I have given it my all and feel I have done my best to keep the squad moving forward.
"I want to continue to play as long as I can and will be working hard to maintain my place in the team and achieve the goals set out by this current squad."
Drummond, who made his Scotland debut in 2007, took over the captaincy from Gavin Hamilton in 2010 and led the team to nine victories in 16 one-day internationals.
Scotland head coach Peter Steindl said: "Gordon has led his country with distinction on every occasion he has captained Scotland.
"He has been a fantastic role model and excellent leader, working tirelessly to create an effective environment during a time of change.
"Much of this work has been done selflessly and behind the scenes in a manner that has always matched his philosophy that the team always comes first.
"I am pleased that Gordon has decided to play on as he will continue to have a positive influence in the dressing room."
The Saltires open this season's YB40 campaign with a trip to Hampshire on Sunday, and then host Pakistan in two one-day internationals in Edinburgh on 17 and 19 May.