Ravi Bopara: Essex coach Grayson foresees 'big score'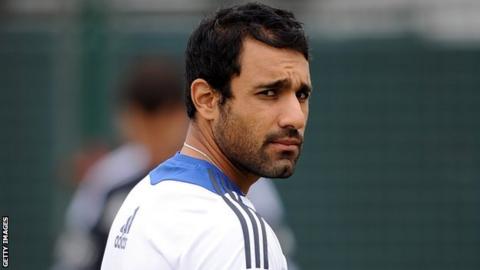 Essex head coach Paul Grayson has said Ravi Bopara is due a big innings when he joins the England Lions next week.
The 27-year-old was out for a three-ball duck on Wednesday in his side's four-wicket County Championship win over Hampshire.
He will be in the Lions team to face New Zealand with an average of 17.42 for Essex this season.
"I know Ravi, mentally he's in a good place. There's a big score around the corner," Grayson told BBC Essex.
"The ball he got [for the duck] was an absolute jaffa, that would have got any player out in the country. Sometimes that happens."
Bopara managed a first-class average of 50.42 in an injury-hit 2012, but has not featured for his country since his
"I've seen him when he's been down. He's not down at the moment and I think he's due some runs," said Grayson.
"I wouldn't be surprised if he gets runs next week for the Lions."
Graham Napier's 79-run second innings stand helped Essex over the line for their first Division Two win this term in a low scoring game against Hampshire.
The 33-year-old all-rounder has now hit a half-century in each of his last two games.
"It's probably as good a knock as I've seen Graham play. He gets this reputation for being a hard hitter of the ball," said Grayson.
"He's maturing as a cricketer all the time. The last couple of years he has been outstanding. He's one of the best professionals on our staff now.
"Physically he's in good condition, mentally he's in a good place and he's had an outstanding start to the season.
"We know that at some stage he's gong to need a rest. Because his body won't let him play every game."