Ashes 2013: Australia can upset England - Matthew Hayden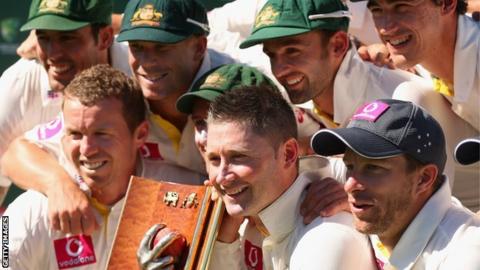 Former Australia batsman Matthew Hayden says the current team can beat England in this year's Ashes despite going into the series as underdogs.
Australia, beaten in the 2009 and 2011 Ashes series, suffered a 4-0 whitewash by India in March.
But Hayden told BBC Sport: "Australia are capable of anything when it comes to the Ashes.
"They have to be workmanlike, build pressure and be in a position to take England on."
Hayden, who played 103 Tests for Australia between 1994 and 2009, said much would depend on the fitness of England batsman Kevin Pietersen, who is battling to recover from a knee injury in time for the first Test at Trent Bridge on 10 July.
"For me he is the key player and would be a huge loss," said Hayden. "He has had longevity in the sport. He has played against Australia many times, has taken us on and has won."
Australia's mauling in India has left the team at arguably its lowest ebb since the mid-1980s, when they lost eight and won only two of 13 consecutive Test series before pulling off a shock 4-0 victory in the 1989 Ashes in England.
Their 16-man squad features only five players who have played an Ashes Test in England and lacks proven pedigree following the recent retirements of Ricky Ponting and Mike Hussey and the ongoing struggle to replace stellar talents such as Hayden, Shane Warne, Glenn McGrath and Adam Gilchrist.
Following the India series, England all-rounder Ian Botham described captain Michael Clarke's unit as "the worst Australian team I can remember".
Hayden, however, thinks Australia's players are well suited to English conditions and will raise their games for the Ashes showdown with their oldest foes.
"England won't make the mistake of taking us for granted because we are a very talented nation of cricketers - we have a very good fast bowling unit and we are competitive," said Hayden, who won three of the four Ashes series he contested between 2001 and 2007.
"On form, England have a great chance of winning the Ashes but we are a very dangerous side and this is a big tournament for us," he said.
"We go there knowing that the Ashes series has a lot riding on it. It's something we talk about often in Australian cricket teams.
"It's always about this series for us as young cricketers so these guys will come dreaming of winning the Ashes."
Hayden urged Australia's players to learn from England's example in 2005, when a pace attack of Simon Jones, Matthew Hoggard, Andrew Flintoff and Steve Harmison drove the hosts to their first Ashes triumph in 18 years.
"Whether it is with bat, ball or in the field it is about building and developing sustained pressure through partnerships," Hayden said.
"We saw that through the successful Ashes series in 2005, with Flintoff, Hoggard and co developing really sustained periods of pressure in their bowling line-ups.
"They won the Ashes back on the strength of good, consistent team bowling efforts but to master simplicity is, obviously, very difficult."
Australia's tour of India was thrown into disarray when four players were suspended for failing to produce a presentation to team management.
Hayden believes publicity of the affair did Australia no favours and urged them to keep any issues in-house during the Ashes.
"If I was in the Australia cricket team right now I would be investing in the solid culture of the group, making sure that they stay really tight," he said.
"When they arrive in early June in England the tabloid media will be licking their chops at the thought of having kangaroo blood shed."