Sachin Tendulkar among my toughest rivals - Alec Stewart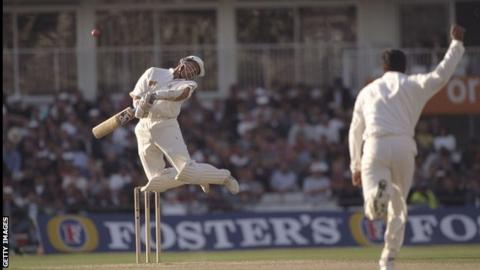 During my 14-year career as an international cricketer, I came up against some of the finest players in the history of the game, so to select an XI has not been an easy task.
I have tried to stick to those who made the greatest impression on matches in which I played, so the most glaring omission is without doubt the legendary Sir Vivian Richards, whose very best days were just behind him by the time I made my Test debut in 1990.
Take a look at my team, weigh up the choices and, as always, pile in with your own views at the end.
1. Gordon Greenidge (West Indies)
Tests: 108 Runs: 7,558 Average: 44.72
Greenidge's opening partnership with Desmond Haynes was as good as any I have seen. Greenidge was one of the batsmen I most enjoyed watching when I was at school and at the start of my career. I admired the way he looked to dominate the new ball from the very start of his innings and that was something I did my best to emulate when I was opening for England. I played my first Test series against that formidable Windies side in 1990 and I remember Greenidge and Haynes taking us apart in Antigua. He hit his square cut harder than anyone I have ever seen, including Robin Smith.
2. Matthew Hayden (Australia)
Tests: 103 Runs: 8,625 Average: 50.73
It was a close call between Hayden and Haynes for the second opener's spot, but the Australian edges it on the strength of the 2002-03 Ashes when he really bullied the England bowling. His 197 in the first innings in Brisbane really put down a marker for how Australia were going to play against us. Hayden may have had a slow start to his Test career, but once he established himself in the Aussie team after 2000 he was one of its most dominant forces.
3. Brian Lara (West Indies)
Tests: 131 Runs: 11,953 Average: 52.88
Lara was the best batsman I played against bar none. He won games single-handedly and his appetite for scoring huge runs - I was on the receiving end of his incredible 375 in Antigua - was insatiable. He looked as though he had come from another planet to teach us all how to bat.
4. Sachin Tendulkar (India)
Tests: 198 Runs: 15,837 Average: 53.86
The 'Little Master' is a no-brainer for his extraordinary run-scoring over such a long period of time and the way he has dealt with the pressure of being India's number one sporting icon. I remember a brilliant 165 in his hometown of Mumbai in 1993 and 193 at Headingley almost a decade later. When he got in, his bat just seemed to get wider and wider.
5. Jacques Kallis (South Africa)
Tests: 162 Runs: 13,128 Average: 56.10 Wickets: 288 Bowling Average 32.43
Put Kallis's supreme batting to one side for a moment: when I first played against him he was also an outstanding bowler. He had deceptively good pace, swung the ball late, had a mean bouncer and caught everything that came his way at slip. Having Kallis in the side as an all-rounder gives this side the perfect balance, with five high-quality bowlers and seven batsmen. The perfect cricketer.
6. Steve Waugh (captain, Australia)
Tests: 168 Runs: 10,927 Average: 51.06
Waugh just gets the nod ahead of his fellow Australia captain Allan Border because I played so much more cricket against him. Waugh had all the attributes you want in a Test match number six: if his side were struggling he would dig them out of a hole, if they were already in a good position he would make sure he rubbed the opposition's nose in it. I played against plenty of batsmen who were easier on the eye, not least his brother Mark, but Steve's fighting qualities were unsurpassed and as a captain he showed what it was to be a true leader.
7. Adam Gilchrist (Australia, wicketkeeper)
Tests: 96 Runs: 5,570 Average: 47.60
No other wicketkeeper-batsman came close to Gilchrist in my career. His compatriot Ian Healy was a better gloveman, but Gilchrist was the ultimate all-round package and could change the course of a game in an hour. He announced himself in the 2001 Ashes series with 152 against England in Birmingham and from that moment on he always seemed to do something special whenever I played against him.
8. Wasim Akram (Pakistan)
Tests: 104 Wickets 414 Bowling Average: 23.62
Wasim was a genius with the new and old ball. Just like his partner in crime Waqar Younis, whether you were on nought or 150 he had the ability to bowl a ball that could get you out. There have not been many quicker bowlers than Wasim Akram. He had a dangerous bouncer, was a great competitor and could score handy runs down the order.
9. Shane Warne (Australia)
Tests: 145 Wickets 708 Average: 25.41
Australia's leg-spinning legend sits right alongside Don Bradman, Lara and Tendulkar in the all-time greats club. Quite possibly the finest bowler of them all, he mastered the hardest art in the game. I still remember the flipper he bowled me out with in Brisbane in 1994-95. He had just bowled one wide of off-stump, which I had cut for four, and the next ball was of a similar length, but before I could consider cutting or pulling it had knocked back my middle stump. I was very close to making him captain of this side because he had one of the best cricket brains I have come up against.
10. Malcolm Marshall (West Indies)
Tests: 81 Wickets 376 Average: 20.94
I played two series against Marshall, in 1990 in the West Indies and then again in 1991. He was not tall but had the ability to swing the ball at great pace and possessed a skiddy bouncer which never really got above head height but seemed to follow you when you tried to get out of the way. He knew every batsman's strengths and weakness and asked questions of them all the time.
11. Curtly Ambrose (West Indies)
Tests: 98 Wickets 405 Average: 20.99
Alongside the left-armer Wasim and the skiddy pace of Marshall, Ambrose's height gives this genuine-pace attack the perfect balance. He had unerring accuracy and the spell when he bowled us out for 46 in the second innings in Trinidad in 1994 was as good as any you could wish to see. He was a real tough cookie on the field but a top man off it when you were not standing 22 yards away from him!
So there you have it - a genuine world-class XI in my opinion but one that was extremely tricky to put together.
Like all good selectors, I started out by naming a squad before whittling it down to a starting XI.
Here are some of the names - in addition to Sir Vivian Richards - it pained me to have to leave out: Desmond Haynes (West Indies), Saeed Anwar (Pakistan), Justin Langer (Australia), Rahul Dravid (India), Martin Crowe (New Zealand), Inzamam-ul-Haq (Pakistan), Allan Border (Australia), Ian Healy (Australia), Shaun Pollock (South Africa), Waqar Younis (Pakistan), Glenn McGrath (Australia), Courtney Walsh (West Indies), Ricky Ponting (Australia), Mark Boucher (South Africa), Muttiah Muralitharan (Sri Lanka) Anil Kumble (India) and Allan Donald (South Africa).
Can I pick a second XI next time?