Stephen Moore column: Out grounds & floodlit first-class games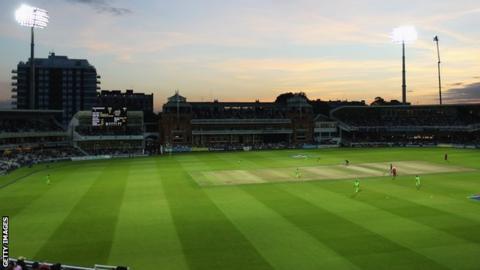 There have been many conversations from different corners of the cricketing spectrum about where the future of the game lies.
For me this was highlighted in some of the questions I have received recently, which I have endeavoured to answer.
Over the last two years, due to the development of our ground, we have played nearly all our championship cricket at venues around the county.
The benefit of this is that we have received wonderful support from people who would not usually be able to make it to Emirates Old Trafford.
It is great as a player to experience that, but due to budgets in county cricket being so tight, the cost of moving a match often makes it prohibitive.
You have to bear in mind that considerable investment has to be committed to the club ground in the months and years prior to the match taking place.
Everyone wants to see a closely-contested match lasting four days, and the pitch and the facilities need to be able to provide that experience for first-class players and supporters alike.
Questions not only about where matches are played, but when have also been heavily debated over the last few years.
I have been fortunate enough to have been involved in two day-night first-class matches played in Abu Dhabi in conjunction with the MCC. The experience was great.
Although there are still some issues with how to make the format work so it provides equal conditions for both sides, for me it shows the kind of thinking that is required to keep cricket as one of the major entertainment sports in the future.
Technology has influenced our lives so much over the last few years, and all this is utilised by coaches, physiotherapists and trainers to make the the county cricketer a vastly more professional sportsman than he was a decade ago.
Day-night Test and first-class cricket just might allow matches to fit into the modern working life, and make the game more accessible to a wider market.
Ultimately though, the competition needs to be identifiable to a modern audience, and marketed as such.
Changing the regulations every year only makes this task harder to achieve.
I would argue that unless there is consistency in decision making and regulations, it is very difficult to build lasting support.
This is highlighted in the YB40 competition that has just started this past bank holiday weekend.
It has been decided that this year there will not be a bowling powerplay and fielding restrictions have also changed.
Surely, considering this is the last year the competition is going to be played, as it does not reflect any international format, tinkering with the regulations only serves to confuse players and supporters who have started to get used to the original format?
It is important to stress, however, that any likely evolution in domestic cricket will be driven from the international environment, but I for one would love to see a day in the future where England internationals are seen more regularly in their county strips.
This would not only raise the profile but also the standard of all county competitions.
One option, that has already been suggested, is to implement a franchise-style system into the domestic structure, if only for Twenty20 cricket.
This might bring new finances into the county game, which are not reliant on Team England.
In my opinion, a more independent county game could only have a positive effect on English cricket.
With all this in mind, and as I watch Emirates Old Trafford evolve and become a truly great stadium, I cannot help but think that when it is full for the Ashes, the spectacle, atmosphere, and skills on display will help to inspire a new generation of young cricketers.
Surely that goal has to be the heart beat of all governing bodies, clubs, and players.
You can follow Stephen Moore on Twitter at: http://twitter.com/stephen_moore6 (external site) and you can also leave questions below for him to answer in future columns.