Gary Kirsten to quit as South Africa coach for family reasons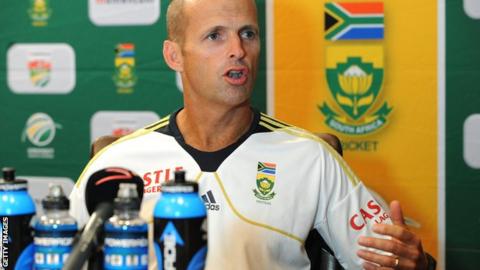 South Africa coach Gary Kirsten is to step down for family reasons when his current contract expires in August.
The 45-year-old, who played 101 Tests for South Africa from 1993-2004, spent three years as coach of India, guiding them to the World Cup title in 2011.
He became South Africa coach in June 2011 and a 2-0 win in England last year put them top of the Test rankings.
"I have every confidence that the Proteas will continue to go from strength to strength," Kirsten said.
Kirsten, who also took India to the top of the Test rankings, was unbeaten in seven Test series as South Africa coach, winning six, and the team lost only two of their 19 Tests during his tenure, with victories in Sri Lanka, Australia and England.
His last assignment in charge of the South African team is expected to be at the Champions Trophy, which begins in the UK next month.
Cricket South Africa president and board chairman Chris Nenzani said: "Gary has a young family and it is understandable that he wishes to spend more time at home.
"With the Proteas due to tour Sri Lanka in July and August, and Pakistan in November, and important home series coming up against India and Australia next season, it is important that we move quickly to identify his successor.
"Although we are disappointed to lose him as head coach, he has put the foundations in place to carry us forward.
"We will certainly endeavour to retain his services in some capacity, as his experience as player, coach and mentor is not something we want to lose in its entirety."