Russell Domingo named new South Africa coach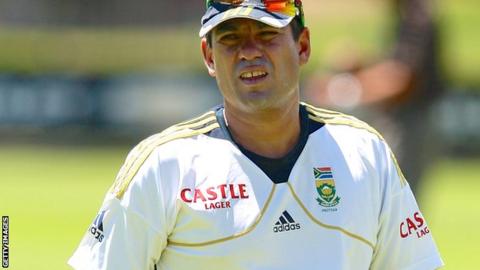 South Africa have appointed Russell Domingo as their head coach following Gary Kirsten's decision to step down.
Kirsten, whose contract expires in August, will lead the Proteas for the final time in the Champions Trophy, which begins in the UK next month.
Domingo, 38, who guided the Warriors franchise to a domestic limited-overs double, was made assistant coach in June 2011 and Twenty20 coach last year.
He will begin his reign with a limited overs tour of Sri Lanka in July.
"This is a very big day in my life. It has to be the highlight in anybody's coaching career to be given the honour and responsibility of being put in charge of your national side," said Domingo, who never played first class cricket.
"I feel it has come at the right stage of my coaching career, having spent the last two years working with Gary.
"I would like to thank the board of Cricket South Africa for the faith they have shown in me and also the many people who have helped me to live my coaching dream."
Cricket South Africa president Chris Nenzani said: "Continuity is very important both in terms of player selection and the management team and this will enable us to have a seamless transition from one coach to another."