Marcus Trescothick: Somerset captain eyes four-day improvement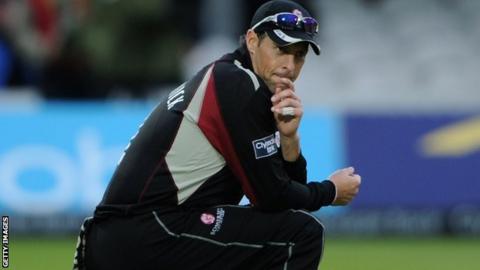 Captain Marcus Trescothick says Somerset need to replicate their 40-over form in the Championship.
The Taunton club have yet to win in four Division One matches, but are unbeaten in two YB40 games.
Speaking after their 131-run victory over Yorkshire, Trescothick told BBC Radio Bristol: "It gives us a lift and shows we are there or there abouts.
"But we need to make sure we get up for our four-day cricket as we've been under par."
Somerset's next match starts on Wednesday at Taunton against Championship leaders Middlesex.
Trescothick added: "We're strong as a team and we know, in our own minds, that we are good enough to win. We just need a victory as soon as we can."
They could only manage a draw with Yorkshire in their four-day match last week but beat them convincingly in their one-day game on Saturday, finishing on 338-5 before bowling the hosts out in 30 overs.
And Trescothick reserved praise for England's Jos Buttler, who hit 89 runs from 51 balls.
"It was quite amazing, really." he said. "It's one of those innings where it was a pleasure to watch.
"You can see him whacking it to all the different parts of the ground and he plays those amazing scoops, which are just outrageous at the times.
"He's such a talent and it was great it was on TV so everyone could witness it."