Stuart Broad: From playing in the back garden to Lord's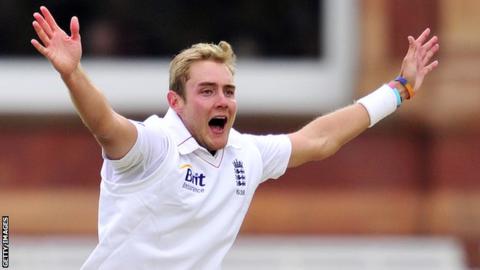 The cricketing education of Stuart Broad began in some ways exactly like yours or mine, and in other ways nothing like ours at all.
There was the familiar: endless games in the back garden, begging family members to throw a ball at him, hitting a taped-up tennis ball against the bedroom wall so often that an enormous crack gradually opened up.
Then there was the atypical, the sort of thing that only happens when your father is opening the batting for England.
"Courtney Walsh used to bowl at me on the outfield at Gloucestershire," he remembers. "Off one pace. But it still came from a frightening height."
We are sitting in a hospitality box at Trent Bridge in the week preceding England's first Test of the summer against New Zealand, looking down on the grass beyond the boundary, where the knee-high Broad and Phil Robinson, son of another England opener, Tim, would set up a dustbin for a wicket and disrupt play by chasing wild slogs onto the outfield.
Broad's earliest cricketing memory, somewhat amusingly, is his father Chris making him watch a VHS highlights tape of the 1986-87 Ashes, when his three centuries went a long way to winning England the series.
Paternal pride aside, the young Broad would find, like many others over the next 18 years, that being English and a cricket fan was often an unpalatable mix.
"It actually hurts me a bit to admit it, but my cricketing heroes growing up were Australian," he says. "In the back garden I'd be Glenn McGrath or 'Warnie' (Shane Warne). I'd try to whack it like Matthew Hayden. They were so successful - they were winners."
No matter. With big sister Gemma doing the backyard bowling when Courtney was otherwise engaged, and mother Carole ferrying him to nets and matches, Broad's journey to the top had begun.
Teenage kicks
The bible according to Tiger Woods, Andre Agassi and all the other world-beating prodigies is that practice is what turns keen kids into winning adults. Broad, instead, took the alternative route.
With his parents separated, it was Carole who acted as the most benign of coaches, setting up a deckchair at Egerton Park CC and immersing herself in a paperback while her son turned out for coach Lennie Hunter's under-11s.
Broad recalls: "It was fantastic getting in the car with her afterwards because it was never, 'Why did you play that shot?' or, 'You shouldn't have done that…' It was, 'Did you enjoy it?'
"She was never a pushy parent, and I think that helped me. As a kid you have to work things out for yourself, not just get it from a textbook."
The young Broad was unrecognisable from the towering paceman of today. In his mid-teens, an opening batsman who occasionally bowled trundlers to a keeper standing up, he was short and plump.
"I never had the power to whack the ball off the square; it was always the big kids who were getting hundreds. What I did do was figure out different things about my game. As a small kid, you have to find a way to survive."
Having played a few games for Leicestershire under-16s, Broad found himself dropped "because I was rubbish". Back in Melton Mowbray with Egerton Park, determined just to have fun, he thrashed his first century.
Over the next three weeks he would, totally unexpectedly, hit seven more. Less surprisingly, people noticed.
"Someone got injured for the county under-17s. I turned up and they told me I was opening the batting. 'Oh! OK, cool…'
"By the end of the day I was 190-odd not out. The next day I was signed up to the Leicestershire academy. Suddenly I believed I could do it. I never looked back."
Hormones also began to get stuck in. Approaching his 17th birthday, Broad stood just 5ft 6in tall. Over the next year he would grow almost a foot. "I just remember eating and sleeping. I went back to school after the holidays and kids were looking at me strangely - 'Who are you?'"
The answer was no longer just an opening batsman. Towering over his classmates, he was suddenly an opening bowler too.
Growing up down under
Like many a promising young buck before him, the 17-year-old Broad was sent out to winter in the raw pastures of Australian club cricket, signed up by a club from the south-western fringes of Melbourne called Hoppers Crossing.
"I went over as a young kid, public school cricket, all nicey-nicey, flat wickets, knock it around… and then I stepped out there, and it was like being in a fight. They were coming at you all the time. They let me know all about what they thought of my old man and his three centuries."
He grins at the memory. "That taught me a toughness - 'I'm not getting out to him' - and that was good for me because it hardened me up."
Broad was billeted with a local family called the Saids. The father, Graeme, was club groundskeeper; between training sessions, Broad would roll the wicket for him to earn his keep.
"I loved it," he says. "I opened the bowling; I opening the batting; they let me bowl 20 overs a day. It made me responsible - 'You're our overseas player, here's the ball, we need a wicket.'
"When I came back to Leicestershire pre-season, I was a different bowler. I was taller, I was quicker, I was hitting the bat harder, because I'd got so many overs into the legs. I had a steeliness, an aggression that I think you need as a bowler."
In at the deep end
Tall, fast and hostile, Broad made his first-class debut for Leicestershire at 19. Within a year he was summoned into England's one-day squad, despite having just three one-day county games under his belt.
Floppy-haired, stump thin, he was both callow and willing. If Melbourne had been a school of hard knocks, his education was about to accelerate.
"Looking back, I probably wasn't ready. Did I jump at the chance? Hell yes. I was suddenly opening the bowling with Darren Gough. It was an amazing experience.
"I'd only been bowling properly for two or three years. We played on slow wickets at Grace Road. My role there was to charge in, bowl four overs up top, hit a length, bowl quick. That was it. I hadn't learned any variations. And you need more skills than that in international cricket."
England were in the process of rattling through bowling coaches with unseemly haste. Troy Cooley went back home to Australia, Kevin Shine was sent packing: it was only with the arrival of Broad's former county team-mate, Ottis Gibson, that the learning curve began to point sharply upwards again.
"As the young kid playing, you bowl the bouncers. And my first 20 Tests were played with 'Fred' (Andrew Flintoff) in the team. I was the fifth bowler. I'd bowl 12 overs a day, a bit-part role.
"When you're bowling 12, you get thrown the ball when nothing's happening, and you feel like you have to take a wicket now. You can chase it, and go for 2-60 off 10. I was a buy-us-a-wicket type.
"I would play four years of international cricket without fully realising what I wanted to be."
Breaking through
Aged 23 but with 17 Tests under his belt, Broad initially struggled in the early skirmishes of the 2009 Ashes.
After a match aggregate of 1-129 in the first Test at Cardiff, he found his feet with career-best figures of 6-91 amid the wreckage of defeat at Headingley, defiantly posting the second fastest century partnership in Test history with Graeme Swann as the series went to the deciding Test at the Oval locked at 1-1.
"Oh, the nerves before!" he remembers. "We knew we had to win, so the attitude beforehand was, 'We're going to have a proper crack at this'."
England were all out for 332. At lunch on day two, Australia were cruising. Broad was yet to bowl a single over.
"At lunch 'Straussy' (skipper Andrew Strauss) told me I was having a pop straight after. 'Try anything. Go for it. Free licence.'
"I went out 10 minutes before to get loose. 'Gibbo' (Gibson) was out there. 'This is big,' he said. 'Try anything. Bouncers. Slower balls.'
"It came out beautifully from the start - and it all happened so quickly. I just kept hitting the stumps."
In a 12-over spell, Broad took 5-37. The tourists collapsed to 160 all out. The game - and series - had been decided.
"Every time I walked back to my fielding position, the entire crowd would be up. It was an amazing feeling. Obviously every Test wicket is big, but when you get an Ashes wicket, when you get an Australian, the crowd go up so big.
"We walked off at tea. I sat down, looked at my phone, and I had 85 texts. I don't even know 85 people. I knew something special had happened."
Broad finished the series with 18 wickets and 234 runs, not only topping the England's bowling averages but ready, as Flintoff retired, to become an undroppable leading man.
Moment of truth
Fate, and possibly England's selectors, had other ideas. Going into the home series with India in the summer of 2011, Broad was drawing censure in the media for what his critics saw as an obsession with the short ball.
No matter that it was team strategy, or that new bowling coach David Saker was referring to him as England's "enforcer". The wickets weren't coming, but the chop might have been. Broad realised he had to take his education into his own hands.
"You have to adapt your game to fit into the team plan at times, but me adapting to the team plan was going to cost me my place in the side. I needed to find a way to take wickets but still be aggressive."
Before the first Test at Lord's, Broad thought long and hard about those heroes of his youth, McGrath and Walsh, and of the fast-bowling legends who preceded them.
The memories, and the YouTube clips, coalesced in a simple, single thought: the best bowlers took most of their wickets by drawing batsmen forward, bowling them or finding the outside edge.
"I went to Lord's for the first Test, my head all 'am I going to play or not?'. Straussy came to me and told me I was in, and I just remember thinking, 'I'm in; I'm going to nail it. This is my series'.
"I sat down with (coach Andy) Flower and Strauss and said, 'Look, I get asked to bowl this bouncer, but I want to be in and around off-stump, challenging. So please let me have a cover if we get the chance. I know there are times we'll need three slips, but gully's never really in the game for me. Let me have a cover, and I can try that fuller length.' They said, 'OK, go for it'.
"In the first innings, I get a first-baller - a terrible decision. Then, I run in for my first delivery and send it miles down leg side. I start thinking, 'Oh God. What's going on here?'
"Then the luck began to change. I bowled a fuller one to (Gautam) Gambhir, he missed it and was bowled. Two overs later, I got a chop on. Seven wickets in the game, 70 runs in the second innings, and my confidence went through the roof. Second Test here at Trent Bridge, six-for and a hat-trick.
"If I look back at that series, all of my wickets from pitching it up - bowled, lbws, caught in the slips. Not one was short.
"That was when I finally knew what sort of bowler I wanted to be. There are still times now when 'Cookie' (captain Alastair Cook) will throw me the ball and say, 'we need to hit this bloke on the head for a few overs'. Fine. But it gave me the confidence that the top of off-stump was where I wanted to live."
The art of self-control
In addition to that VHS of the 1986-87 Ashes, Broad was bequeathed something else by father Chris: the same fiery temper that saw Broad Sr both smash down his stumps when dismissed on England duty and, later, refuse to leave the crease when given out.
Even as his cricketing tutelage accelerated, the younger Broad's temper set traps. Two years ago he was fined 50% of his match fee for throwing the ball at Pakistan batsman Zulqarnain Haider. The following summer he was hit with the same punishment for his furious reaction when umpire Billy Bowden turned down an lbw appeal.
Broad could call on extenuating circumstances. Just before the Haider incident he had lost his stepmother, Miche, heading off to play the morning after her death. But, realising he was in danger of wrecking all those years of work, he went to see sports psychologist Mark Bawden.
"I made the decision that I would have to work on my emotions to see how I could control them better.
"I've always had that fighter in me, but there is also something about bowling. It's a very emotional thing to do. If I were an opening batsman, I think I'd be very different. It's about calm, it's about being logical. But bowling, you have to get your body fired up, because it hurts. You have to hate the batsman.
"I've also always admired sportsmen who had fight in them, like Martin Johnson. Throwing the first punch.
"I'd hate anyone watching to think, 'He's not trying; I should have that shirt instead'.
"As a bowler you need that emotion, that fire, to get wickets. If you're not quite emotional enough, you won't have enough on the ball. But if you go too far, it'll get out of control, and batsmen will get the better of you.
"I speak to Mark at the end of every day's play. There's a fine balance, something we call 'warrior mode'. It's something I'm getting better at, but I'm not the finished article."
Pupil becomes teacher
And so we come to the present.
Broad, aged 26, an integral part of the England attack as they prepare for back-to-back Ashes series, one-day stalwart, skipper of his country's Twenty20 side, stands at Trent Bridge as the embodiment of all those lessons, a cricketer approaching his peak.
An hour and a half after we first began to talk, he is ready to bring the story full circle.
Remember those back garden games? Remember pretending to be McGrath, 'Warnie' and Hayden?
"I didn't support Australia," he says quietly, looking back out over the green outfield to the empty stands. "I wanted England to win.
"As part of the England team, you want to win so that the kid playing in the park wants to clip one off his legs like 'Cookie', to catch it like Matty P (Prior).
"Those are the influences you can have. I see kids in the crowd at Test matches and I want them to have English players as their heroes."