Glamorgan coach Matthew Mott cautious over bowler Simon Jones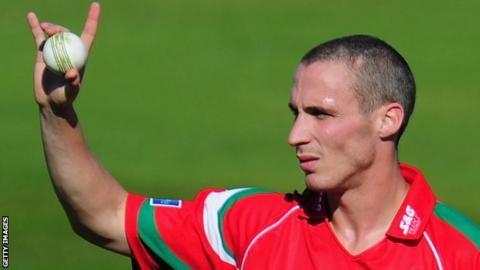 Glamorgan coach Matthew Mott says former England fast bowler Simon Jones will not be rushed back into first-team action.
Jones, who has a history of knee problems, has yet to feature for Glamorgan in any forms of cricket so far this season.
And Mott says the 34-year-old will return in one-day competitions before playing in the County Championship.
"He's had some good days and some bad days," Mott said.
"He bowled in the second XI last week and got through 18 overs but [there was] a little bit of swelling in the knee.
"We're being a bit cautious with him at the moment and trying to get him back to full health before we roll him out in one-day cricket [which] is more his focus at this stage.
"As soon as he's right to go he'll push for selection."
Jones agreed a new four-day match contract with Glamorgan in December after he had rejoined the county from Hampshire in October 2011.
Glamorgan's home County Championship Division Two clash with Essex starts at the Swalec Stadium on Wednesday.
The Welsh county lost to Lancashire in dramatic fashion in their previous County Championship match at Colwyn Bay.
"We'll always look back at that as a game we should have won," Mott said.
"What we do have to remember is how much good stuff we and did and but for an hour and a half of madness everything else was pretty good.
"There was a lot of positive feedback, especially the bowling. We'll just continue to try and keep improving.
Mott was frustrated after Sunday's home match against Unicorns in the Yorkshire Bank 40 was rained off without a ball being bowled.
Glamorgan had been hoping to secure their third successive victory in the competition following wins over Yorkshire and Middlesex.
"It's a real shame because we've had two wins in this and it would have been great to have extended that to three," Mott said.
"It was pretty inevitable if you look at the forecast that we weren't really going to get on.
"In the Championship we had a little bit of luck with weather so we can't bemoan it too much."