England v New Zealand: Deposed Ross Taylor targets England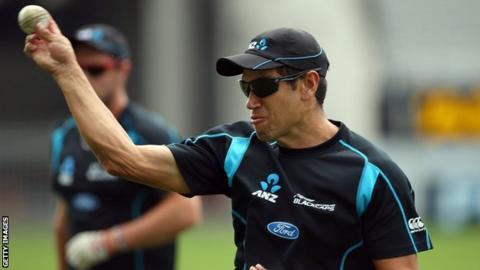 Ross Taylor is all smiles, high-fives and back slaps as he exchanges banter with his team-mates at the squad's hotel.
In Kevin Pietersen-speak, New Zealand's best batsman has recently been "reintegrated" into the side following an ugly fall-out with his coach and appears at pains to show that everything is back as it should be as the Black Caps prepare to take on England in a two-Test series starting at Lord's on Thursday.
Taylor was ousted as one-day and Twenty20 captain by new coach Mike Hesson in favour of Brendon McCullum during their tour of Sri Lanka in November.
Incensed, Taylor responded by turning down the chance to continue as Test captain and made himself unavailable for their tour of South Africa.
He returned to the ranks for England's visit in March, but at the end of the series - which finished in a 0-0 draw - gave an interview to local radio in which he admitted he was still not comfortable with the situation.
So where are we now?
"We've had a few meetings and everything has been going really well," Taylor, who has scored more than 3,000 Test runs at an average of 42.55, tells BBC Sport.
"The players have been great towards me and I'm just enjoying being part of their company.
"Everyone in the team, and especially the management, just wants to get on with it. Hopefully the distraction has gone away and we can get on with playing cricket. It's time to move on."
Taylor, who still harbours ambitions of captaining the side in the future, admits his relationship with Hesson remains a work in progress, but it is "a lot better than it was a month ago".
But what of his rapport with McCullum, a player with whom he has come through the ranks of New Zealand cricket since they both appeared for the under-19s in 2001?
The fact that McCullum's manager, Stephen Fleming - a former New Zealand skipper, sat on the panel that appointed Hesson has complicated the situation and McCullum was forced to deny that he had pushed for the change in Sri Lanka.
Do Taylor and McCullum still get on? More importantly, does it matter if they don't?
"Brendon has been good - we've had chats since we've been here," Taylor says.
"Everyone has people they get on with better than others - that's just the team culture. As long as everyone respects each other, that is the main thing.
"In any team and any work place, as long as you have the common goal of winning that is the main thing. I'm sure Brendon is the same.
"All we want to do is win games of cricket for New Zealand. If we are doing that we are doing our jobs."
Winning Tests in England has been a rare occurrence for New Zealand, with just four victories in 50 matches, two of which came during their series victory over Nasser Hussain's men in 1999.
Taylor had played only five Tests when he was named in their 2008 touring party but, after two low scores at Lord's, he struck five sixes in a blistering unbeaten 154 off 176 balls at Old Trafford, which remains his highest Test score.
"I was pretty nervous playing at Lord's for the first time but settled down and got a hundred in Manchester, which was probably one of the best innings I have ever played," Taylor says.
"I'm a better player now so hopefully I can show that."
At 29 and with 46 Tests under his belt, Taylor is a senior statesman of a team undergoing a facelift after a sequence of just one victory in their last 14 Tests that has left them eighth in the International Cricket Council rankings.
They were ruthlessly mauled by South Africa in two Tests in January but regrouped to enjoy the better of their home series against England in March, the tourists having to rely on last man Monty Panesar on the final day in Auckland to salvage a series draw.
Over the three matches, young batsmen Hamish Rutherford and Kane Williamson showed signs that they belong at Test level, makeshift opener Peter Fulton scored back-to-back hundreds in Auckland and Neil Wagner emerged as a skilful exponent of left-arm seam.
"This team does have a lot of potential," Taylor adds. "It's just a case of stringing that together.
"The England fans saw what our players could do. We just need to do it for longer periods of time. If we do that hopefully we can go up those rankings.
"England are a very good side at home but their bowlers probably didn't bowl as well as they would have liked in New Zealand.
"I'm sure they'll be raring to go here in England and we'll have to bat very well to combat that.
"If we can get through that initial new ball when the lacquer does come off we can bat like we did in New Zealand, which was very consistent."
As for their billing in some quarters as little more than a warm-up act for the Ashes, Taylor is unperturbed.
"Everyone is entitled to their opinion," he smiles. "We're here to do our best and if we do that we will be a very competitive unit."