Wicketkeeper Matt Prior voted England Cricketer of the Year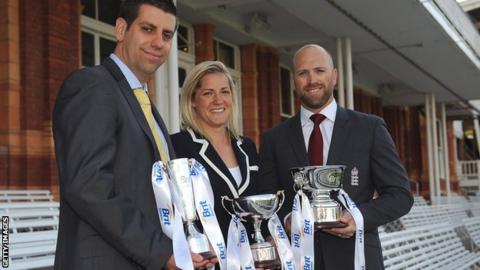 Wicketkeeper Matt Prior has been voted England Cricketer of the Year for 2012-13.
Prior, 31, the first wicketkeeper to win the award, hit a match-saving hundred in England's draw against New Zealand, and seven Test half-centuries.
Prior put success down to consistency over the year. "That's something I've worked very hard on," he said.
England bowler Katherine Brunt, who took 12 wickets in the World Cup, won the women's title for the third time.
She was chosen ahead of Holly Colvin, Charlotte Edwards and Sarah Taylor.
Prior beat off competition from England captain Alastair Cook and last year's winner, fast bowler James Anderson.
His magnificent unbeaten 110, and last man Monty Panesar's rearguard action in facing five balls at the death, denied New Zealand a series victory in Auckland in March.
"I've no doubt the innings in against New Zealand is pretty fresh in people's minds so that's probably had something to do with it," Prior added.
"It was great to get over the line, a hugely proud moment but from a team point of view we want to be winning Test matches not drawing them.
"But to save a game for your country is a great feeling and I was very proud."
Prior was born in Johannesburg, South Africa, and plays for Sussex in the County Championship.
The right-handed batsman, who is in England's squad for Thursday's first Test against New Zealand at Lord's, is widely regarded as the best wicketkeeper-batsman in Test cricket.
He made his England debut against West Indies at Lord's in May 2007, scoring 126 not out in the first innings.
Prior played down suggestions that the New Zealand series is a warm-up for the Ashes which starts at Trent Bridge on 10 July.
"You can't have Test matches that are warm-ups," he said. "Every Test match is a special moment.
"You only have to walk into this ground at Lord's and walk out playing for your country.
"This series is massive. We had a tough series in New Zealand and we want to put in good performances and get a win.
"Winning is a habit and you want to get in that habit as soon as possible. Our best preparation whether it be the Ashes, India or New Zealand, is winning Test matches and we want to start on Thursday."
Prior's unbeaten century in Auckland which helped England draw the Test series against New Zealand also won the TwelfthMan Cricketing Moment of the Year Award, voted for by members of ECB's TwelfthMan fan community on Facebook.
Ben Foakes, the Essex and England Under-19s wicketkeeper-batsman, won the England Development Programme Cricketer of the Year award, while Matthew Dean, from England's Visually Impaired squad, was handed the England Disability Cricketer of the Year award.