Pakistan upbeat in Scottish rain ahead of one-day matches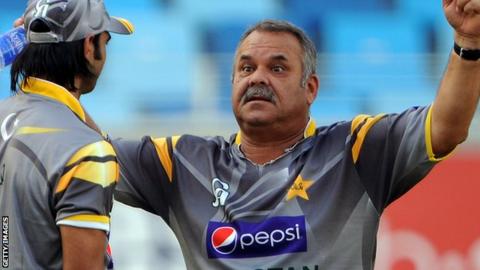 Head coach Dav Whatmore was not too discouraged as Pakistan touched down in rainy Glasgow to begin their preparations for the Champions Trophy.
Pakistan will play two one-day internationals against Scotland this week before taking on Ireland.
"There's a very important tournament in a few weeks' time and this is our build-up," Whatmore told BBC Scotland.
"The inclement weather is part of acclimatising and we're happy no matter what we get."
Pakistan play Sri Lanka and South Africa in further challenge matches at Edgbaston and The Oval, respectively, before opening their Champions Trophy campaign against West Indies on 7 June.
They will also meet India and South Africa in the group phase.
Pakistan last visited Scotland in 2006, winning by five wickets with 37 balls to spare at The Grange in Edinburgh.
And it will be a return to the same venue for the scheduled matches on 17 and 19 May, if the Scottish rain relents.
"It's never easy to come and play your cricket here because we're coming from 40 degree heat into this weather, so it'll take a little bit of time to adjust and we haven't got too long - just a couple of days of practice," said Whatmore.
"I think it'll be good for Scottish cricket and good for us as well."
Pakistan arrived on Scottish soil around the same time their hosts were announcing the captaincy of Kyle Coetzer.
The new skipper told Cricket Scotland's website: "Clearly, it is going to be a tough start, but I am convinced that, if we can beat a team such as Pakistan, it will give us the belief and confidence to do it again and again in the future.
"That is a big part of this game, as it is in a lot of sports, and maybe, in the past, we went out sometimes with the attitude that we hoped we could be competitive, but we didn't really think we could win.
"But I have spent a lot of time with the guys recently and I can detect that matters have changed.
"You talk to Majid [Haq], or Preston [Mommsen], or Richie [Berrington] and these lads are not interested in just making a decent game of it.
"They are determined to win these high-profile fixtures and help Scotland reach the finals of major events.
"Most of us are doing this on a full-time basis, so it is our life and we want to be successful.
"I know I am also keen to reward the supporters, because I remember how thrilled everybody was when we defeated Bangladesh [in a Twenty20 match] and we want to repeat that experience.
"Pakistan are favourites, of course, but we will be giving it our all."