Sohail Tanvir: Hampshire to sign Pakistan bowler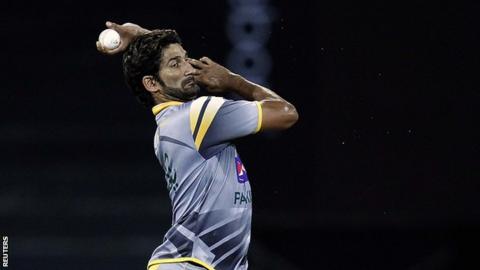 Pakistan's Sohail Tanvir is to join Hampshire for their Twenty20 campaign, his agent has told BBC Radio Solent.
The left-arm paceman, 28, is due to join Hampshire on 23 May, subject to his gaining a visa.
Tanvir has appeared in 50 one-day and 28 T20 internationals for Pakistan but was left out of their 30-man Champions Trophy squad.
He joins Australia's George Bailey as Hampshire's overseas players for their defence of the domestic T20 title.
Bailey will be absent for part of the tournament because of his involvement in Australia's Champions Trophy campaign.
"Tanvir will initially be with Hampshire for the T20 season and then we'll make a decision on it after that," said the player's agent Umran Khan.
"He is also contracted to play in the Sri Lanka Premier League. So initially we are looking at the end of the T20 and then we will make a decision."
Another Pakistan bowler, spinner Saeed Ajmal, is also scheduled to join Hampshire for the latter part of the county season, but that remains in the balance because of Pakistan's international fixture list.
"With Saeed, there is a tour to Zimbabwe in mid-August, hence the reason it is going to be difficult for him to play for Hampshire," said Khan.
"The initial contract was from 1 August all the way through to the end of the season but if this tour goes ahead with the Pakistani team he will have to represent his country, meaning he will not be able to honour that contract.
"At the moment that is all up in the air, but if the tour does not go ahead then he will just take over from Tanvir."
Tanvir, who played for South African side Highveld Lions in last year's Champions League, was due to play for Worcestershire but that contract was cancelled after visa problems, although Khan insists this time around the process should be a "formality".