North West snatch draw with Leinster in Inter-Provincial game
Last updated on .From the section Cricket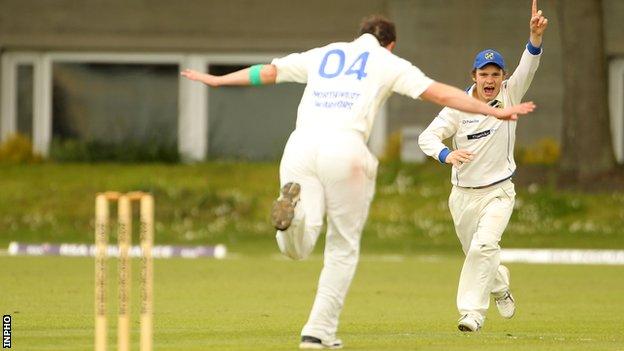 North West Warriors escaped with a dramatic and unlikely draw against Leinster Lightning in the three-day Inter-Provincial game in Dublin.
The North West's rearguard action looked to be in vain as they were dismissed for 153 to leave Leinster needing 26 runs in four overs to win.
However, inspired bowling from Johnny Thompson and Peter Connell restricted Leinster to 22-5 from their four overs.
Romano Ramoo's catch to dismiss Patrick Collins in the final over was crucial.
Earlier Andrew Riddles (31) and David Rankin (29) had battled resolutely to eek out what proved to be a crucial lead.
Max Sorensen (4-50) bowled superbly throughout and his figures would have been even better had Leinster not spilled six chances.
Eddie Richardson (2-32) and skipper Kevin O'Brien (2-13) also bowled with great control on a day where the overhead conditions meant the bowlers were always on top.
The dominance of the bowlers was maintained at the death as Thompson and Connell produced superb figures of 2-6 and 2-15.
The Warriors had started the final day on 22-2, still 106 runs adrift.
The next game in the series is on Sunday when the Warriors host Northern Knights in a 50-over encounter.
RESULT
North West Warriors 191 all out and 153 all out (68.5 overs, A Riddles 31, D Rankin 29, M Sorensen 4-50, K O'Brien 2-13, E Richardson 2-32) drew with Leinster Lightning 319 all out and 22-5 (4 overs, J Thompson 2-6, P Connell 2-15).
Leinster Lightning 10 points, NW Warriors 7 points